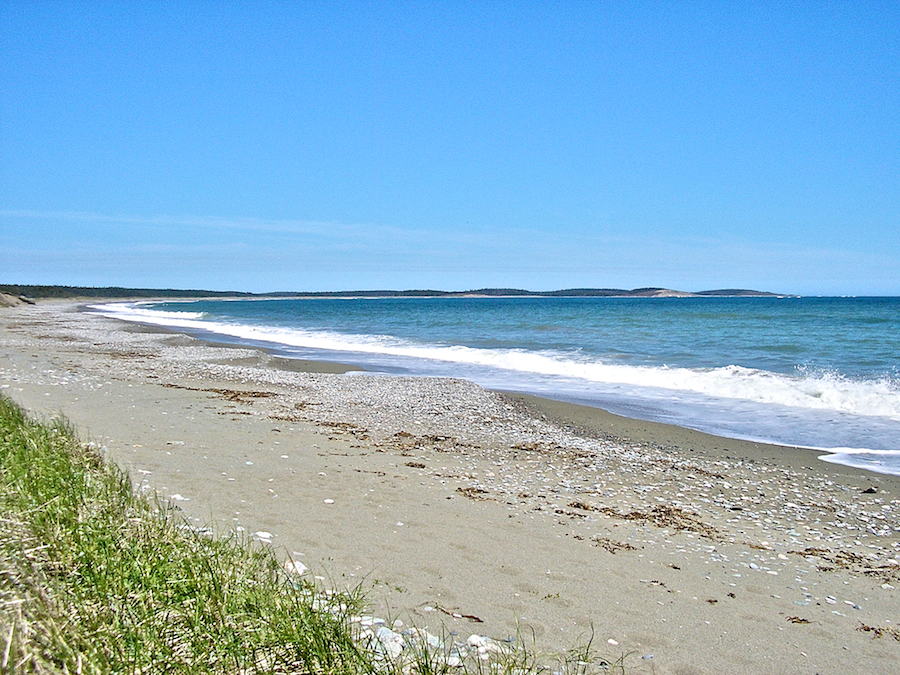 This view to the east shows the long crescent beach in Framboise Cove, with Morrisons Beach in the foreground. The mouth of Fullers River is just to the left of the third hill from the right. The point at the far right is Winging Point (not to be confused with another point having this name on the shore of Fourchu Bay in the Gabarus Wilderness Area).
The area above Morrisons Beach is a sand dune anchored by marram grass. The beach itself appears to be a mixture of fine sand and cobblestones; the cobblestone pile in the centre of the photo (and the repeated piles down the beach) illustrate how the waves deliver them to the shore and then push them inland over time. Closer to the water is more sand, wetter than that higher up on the beach, but without cobblestones.
It is striking that there are no people here at this beautiful beach. This was, of course, in early June and, while a more than lovely day, it wasn't tremendously warm; however, I would not be at all surprised to see an equally empty beach in the middle of the summer. There were signs of ATV's and the road to the beach is in good shape, but there are probably comparatively few people who even know of its existence–I surely didn't when I started down the road. It is a place to which I will certainly return when I have time to explore both the beach and Red Cape.
[2012] I found several family groups enjoying the sand, sun, water, and views each time I have since returned to Morrisons Beach, so it's not always as quiet as it was on my first visit there. Far more impressive piles of cobblestones than those seen here are found along the coast south of Red Cape east of English Pond and at the palisade promenade at Gabarus.