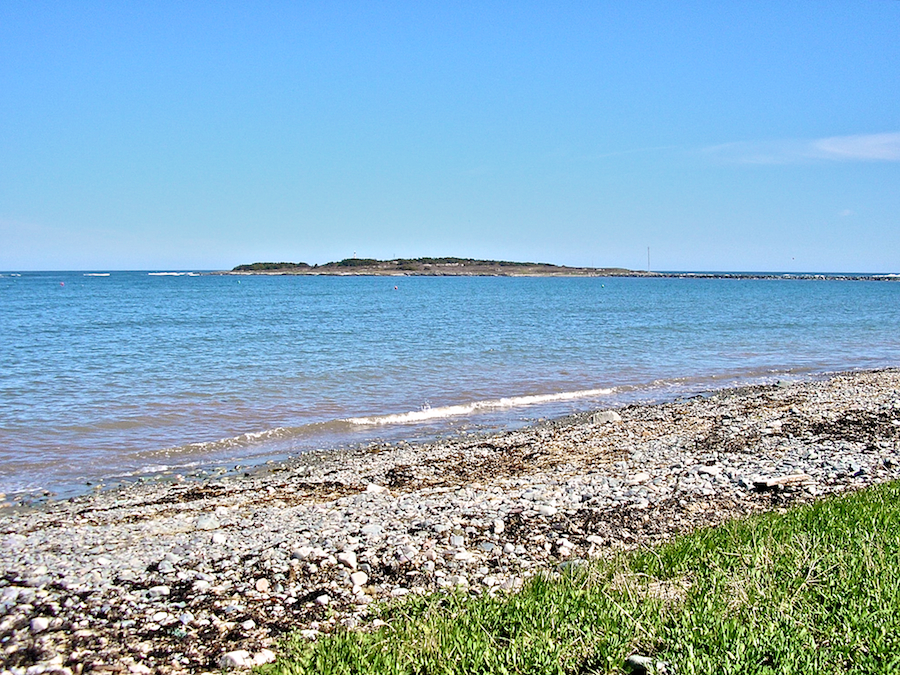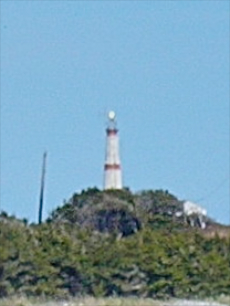 This view, taken from the northeastern end of the inlet, shows Fourchu Head. A long breakwater/causeway formed of huge boulders leads from the end of South Fourchu Road out to Fourchu Head (The Nova Scotia Atlas incorrectly shows this road as continuing out to Fourchu Head, but the breakwater is impassible to vehicles as this photo clearly shows). I was a bit frustrated trying to get a good photo of Fourchu Head; it is much too large to capture whole from the end of South Fourchu Road, but too far away for my camera's telephoto lens to show a good level of detail from Canns Point on the other side of the inlet. This was the best of the photos I got.
Fourchu Head Lighthouse can barely be seen in this photo above the second block of trees from the left. Its circular white fibreglass design differs from that usually seen in Cape Breton lighthouses; at the right, an excerpt from another photo I took shows it better. The linked web pages indicate that a lighthouse was first constructed here in 1907 and replaced in 1985 by the current tower. A much better view of the lighthouse and adjacent Environment Canada meteorological station by someone who took the time to walk out there across the breakwater/causeway, no easy task, can be found here. This web page (courtesy of the Wayback Machine, as the original is no longer on-line) indicates that the white building one sees in this photo is a "wood fog signal building [with] two active fog horns (3 s blasts in unison every 30 s)"; it is not a habitation.
The surf to the left of Fourchu Head marks a line of shoals, which can be seen further right superimposed on Fourchu Head, though they are actually some distance out from it. The channel markers, very hard to see in this photo (the red one is left of centre in line with a sandy looking patch to the right of the second clump of trees; the green one is in line with the Fourchu Head end of the causeway), are much closer to the north side of the inlet than to the south side.