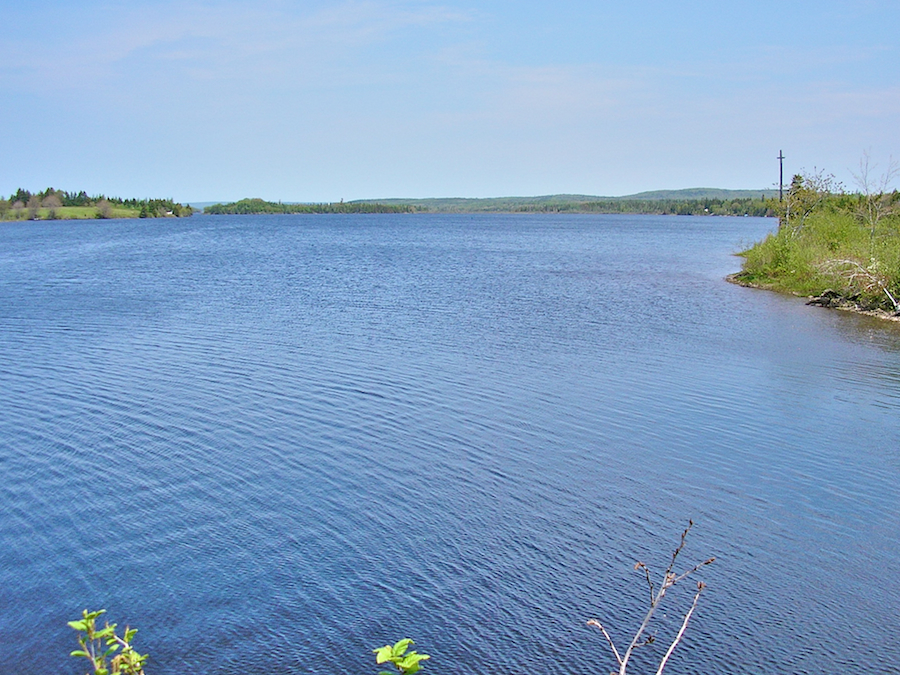 In this view to the north, the Mira widens out to 1 km (0.6 mi) immediately beyond Victoria Bridge. The main course of the river is to the left of the (unnamed) point one sees well left of centre at the end of the long (unnamed) cove that sweeps across most of the width of the photo. The Grand Mira South Road passes inland of the dwelling one sees at the right below the mountain; the Grand Mira North Road passes inland of the dwelling at the left. Yellow Cove lies to the right of the point in the foreground at the right of the photo; it is perhaps ½ km (⅓ mi) long and quite narrow.
According to the Nova Scotia Groundwater Interactive Map, the mountain rising behind the dwelling is Gillis Mountain and is exceptionally formed of igneous rock—the rest of the mountains in this area on both sides of the river are formed of sedimentary rock.
The next few photos will hopscotch back and forth between the Grand Mira South and Grand Mira North Roads as the essay moves to the north along the river; this way, it will be possible to see both shores and the adjacent countryside.