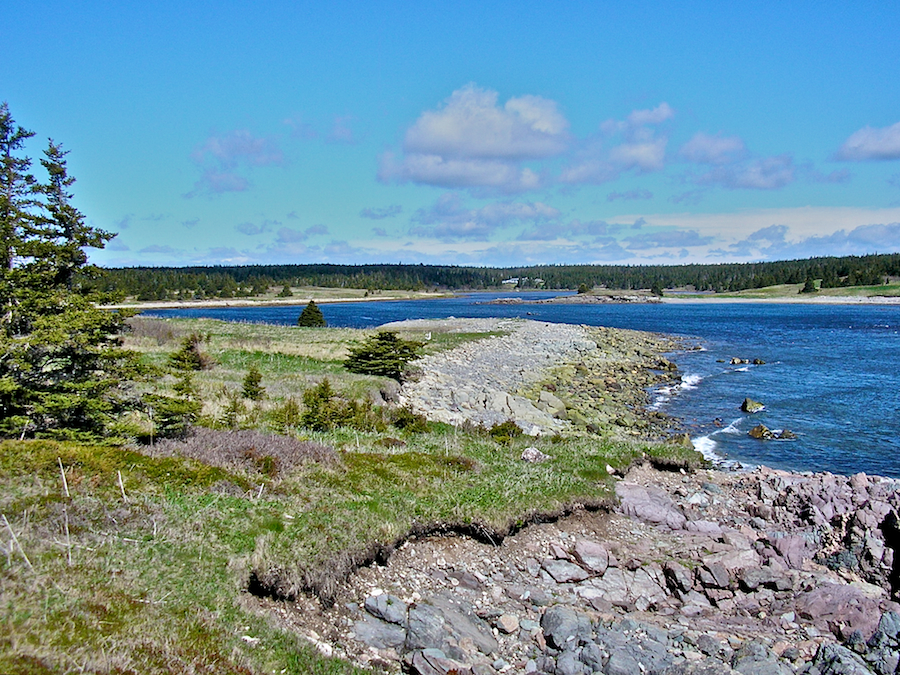 Photo #1 was taken while returning from the coast. Like the harbour at Fourchu, Big Lorraine Harbour is forked. The photo above shows much of the entrance to Big Lorraine Harbour and its eastern fork; the western fork is to the left of this photo and out of its scope. The land across the water from the far left to the centre of the photo is Middle Neck, a peninsula which separates the western and eastern forks of the harbour. A house sits at the far end of the eastern fork (and is also adjacent to the Louisbourg-Main-à-Dieu Road). On Middle Neck outside the scope of this photo sit two piers, some storage sheds, and, the day I was there, a huge stack of lobster traps—since this was still during lobster-season, it was yet another silent witness to the distress caused by the then high price of fuel and the low price the fishermen were getting for their catch. (The next page, where a lobster boat can be seen checking traps, shows that not every fisherman was discouraged enough to stay on land.)
The view in photo #2 was taken a few minutes earlier than the one above; it shows the rocky cliffs that are present closer to the harbour's mouth. You can judge the height of these cliffs by using the height of one of the trees at the left as a guide. There are clefts and fissures throughout all of these rocks caused by the everlasting interplay of wind, water, and the seasons; it is clear that the boulders now seen in the water were once attached to this cliff face. I remember noticing as I passed over them how incredibly sharply they had been honed by the elements.
On the east side of Big Lorraine Harbour, the fields one sees in photo #1 continue well to the east along the shore, as seen in photo #2. There is an old cemetery along that shore; it is shown on the topographic map at the end of a short road approximately 2 km (1.2 mi) further east on the Louisbourg-Main-à-Dieu Road past the turn-off into Big Lorraine Harbour. I have not yet explored that road, but it is now on my to-do list.
[2012] I have since attempted to drive down the road to the cemetery, but its state obliged me to turn around soon after I left the Louisbourg-Main-à-Dieu Road. It is, however, quite hikeable, though I have not yet hiked down to the cemetery; it therefore remains on my to-do list.