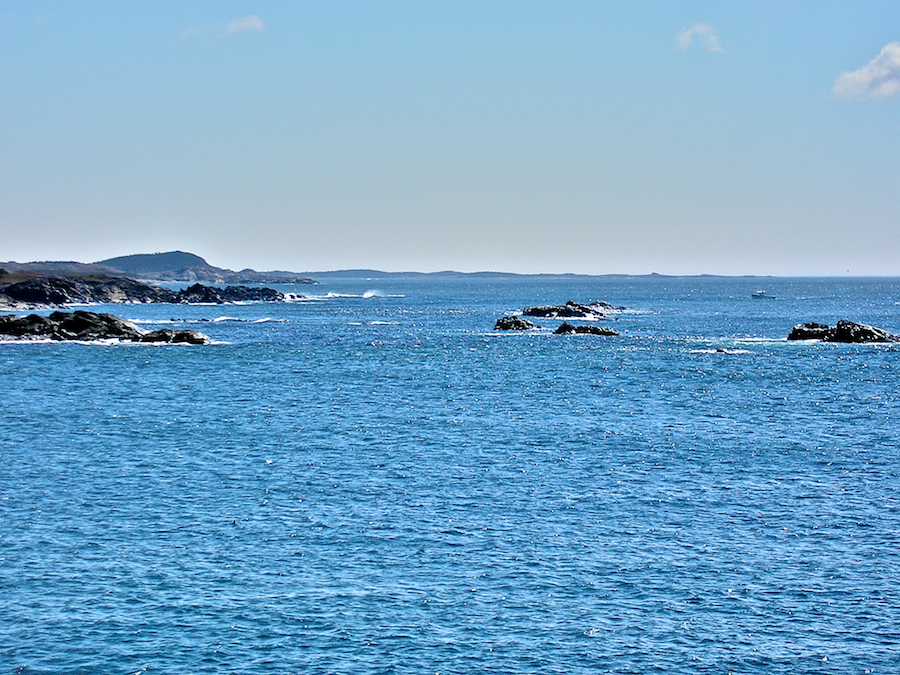 This photo looks northeast along the coast from the western edge of Big Lorraine Harbour. Cape Breton, the cape, lies roughly 12 km (7.4 mi) to the east northeast of this point, but it's not certain that it's visible here, as it may be hidden by Hummocky Point from this vantage point. In any case, the land at the far right of the photo is very near to the easternmost point of Cape Breton Island (Scatarie Island, which will be seen subsequently in this essay, lies further east, but is separated from Cape Breton Island by the waters known as the Main-à-Dieu Passage).
According to the topographical map for the area, none of the terrain along the coast exceeds 20 m (66 ft) in elevation; it shows none of the coastal prominences which are readily visible in this photo. The Nova Scotia Groundwater Interactive Map with shaded relief at the 1 km level of detail does considerably better, but still not good enough for me to positively identify any of them. If someone can assist with the names, please e-mail me.
Big Lorraine Harbour is an outstandingly gorgeous spot among the many very beautiful places along this shore; I am delighted to have finally gotten there and look forward to revisiting it and hiking from there to the new Louisbourg Lighthouse Trail in the future.
For more photos of Big Lorraine Harbour and of the Louisbourg area (there are also some further afield), including some very fine surf shots, wander through Gary Drew's Cape Breton Beauty blog (don't be discouraged by the few photos on the initial page—browse through the archives and watch the slideshow).