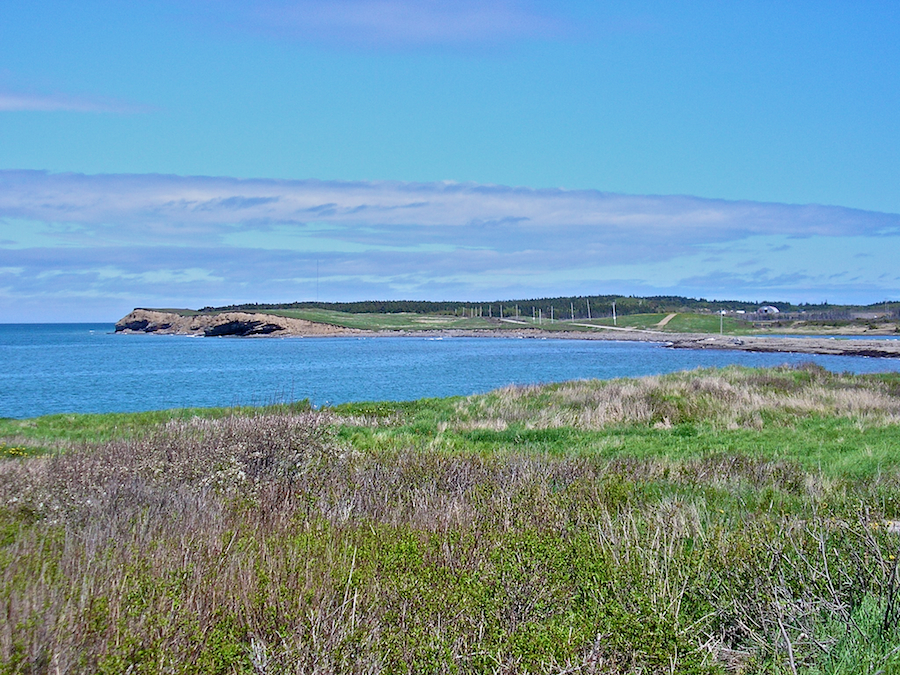 This photo shows Schooner Pond Cove and Schooner Pond Head; it was taken before the hike during which the two previous photos were shot. The road lined with utility poles one sees at the right across the narrow strip of land separating the cove from Schooner Pond behind it is private, leading to buildings belonging to the mining company, though it is possible to drive a short way down it to access the hiking path leading to the Schooner Pond Head cliffs that meets the road there.
Notice the severely eroded state of the cliffs on Schooner Pond Head; at some point, they will come crashing down into the water. This should be warning enough to keep well back from the edge of these cliffs (and the many others like them all over Cape Breton Island)! Although it is a bit hard to see in this reduced photo, in the original, there is clear evidence of a coal seam in the point that sticks out at the left edge of the rightmost cavity in the shoreline.
While walking along the hiking path, I noticed several places where wildflowers were in bloom at the side of the trail. The brush in the foreground here, however, is still in its early spring days and only beginning to acquire foliage.