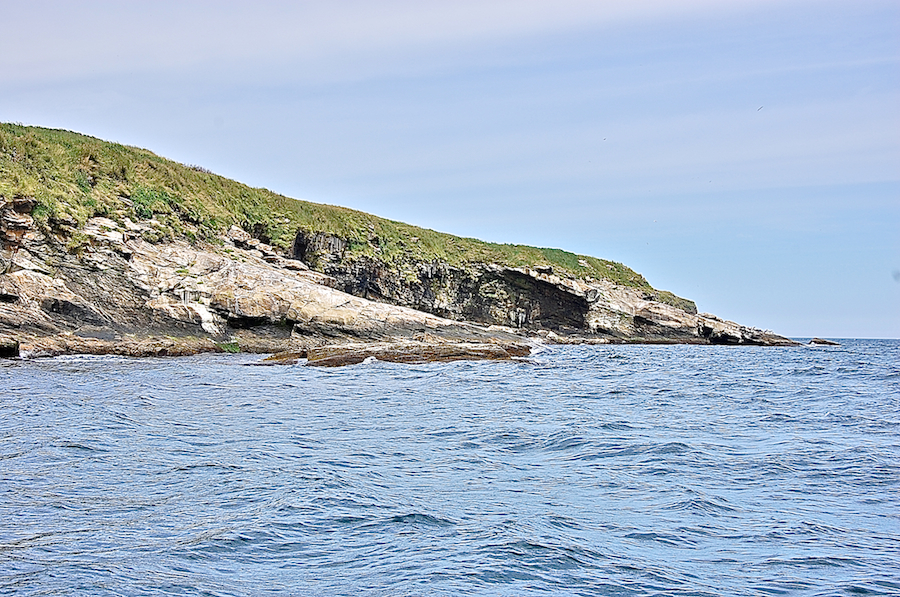 The views here attempt to provide a good representation of the eastern shores of Hertford Island. Photo #1 shows some detail of the protruding points seen at the far left of photo #2.
Here, the action of the erosion appears to extend only about halfway up the island; the top is covered in protective grass that holds the soil in place; for the most part, only where the water is able to reach does one see bare rocks and rubble. Note the clumps of grass at the right of the photo #2 that look very similar to those above; I would hazard a guess that these were once attached to those at the top and have since been brought down by the rocks below them having given way: note the piles of rubble as well to the left, strengthening this hy­poth­esis.
Guano is seen all over these islands; sometimes, as in photo #1, it can be very dif­fi­cult to dis­tinguish the underlying rock from the bird deposits. Notice, for exam­ple, the left part of the point in the fore­ground of photo #1, where the white coloration slides down the rock to the water level, where it is covered over with algæ growing on it. Likewise, alternating stripes are seen in the slanting rock above the eroded cave just right of the centre of photo #1. Initially, I thought that this was evidence of the marbleization encountered in rocks else­where in Cape Breton, notably at Green Cove along the Cabot Trail, where an interpretive panel tells us that its
rocks were once hot molten liquid. Here dark grey gneisses (pronounced "nices") and pink and white granites were formed. The gneisses cooled and solidi­fied quickly, forming fine-grained rock. The granites cooled more slowly, cre­ating larger crystals. You can see clear quartz, pink and white feldspar and shiny black and white mica in the granites.
Over time, these rocks cracked under the pressures of a shifting earth. Into the cracks flowed molten rock, creating the criss-cross patterns on the headland. These intruding rock lines, called dykes, are younger than the enclosing rock. Some dykes are older than others.
After some study of these markings and others elsewhere on these two islands, I now think that those seen here are not actually embedded in the rocks, but are superimposed on top, i.e., they are guano. The clue is that the criss-cross patterns seen at Green Cove are missing; what one sees here are mostly vertical stripes or stripes painted by the force of gravity.
The marks on the back wall of the cave in photo #1, however, are unambiguously guano produced by birds nesting on the tops of the rocks there (in the uncompressed original, two eagles be espied sitting there).