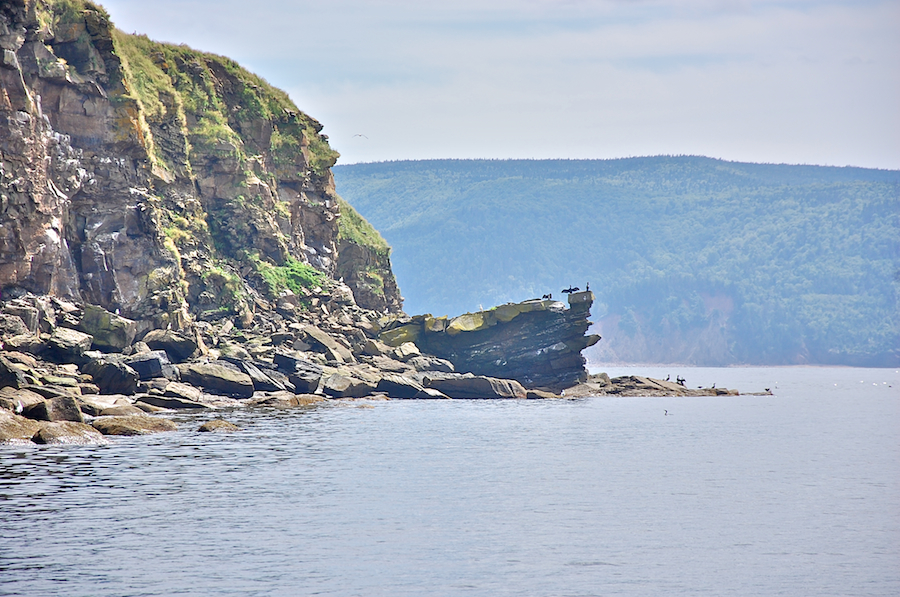 A number of herring gulls appear in photo #1, along the shore, halfway up the cliff face, and even one (visible against the sky) peering over the edge in the grass at the top about an eighth of the way in from the left edge of the photo. Three cormorants, two with their wings spread out to dry, are perched at the end of the protruding rock above the shore; more cormorants (and one gull) are on the short rocky tip of the island and two are swimming in the water, one on each side. And ideal habitat for birds, indeed! And they do seem to be thriving!
Photo #2 views the end of Hertford Island at a 90° angle. Perspective again becomes an issue in this photo: would you recognize the rock in the centre of this photo as being the protruding rock in the photo above?
Pardon my flight of fancy, but with a bit of imagination, I can see the end of the island as the face of a gentle but noble recumbent lion beneath a green mane and with its front paws extended, as cats will often do. Isn't it amazing how the human mind can make such associations?
Two herring gulls are perched on the large guano-stained boulder at the far right of photo #2, while another looks down on them from the guano-stained rock about halfway down the slope above. Other herring gulls are visible in the grass and on the rocks. Under mag­ni­fi­ca­tion of the ori­ginal, two stalks of what appear to be Queen Anne's lace emerge from the grass half­way down right of centre in the photo—not much more than white dots in this compressed version.
[continued below]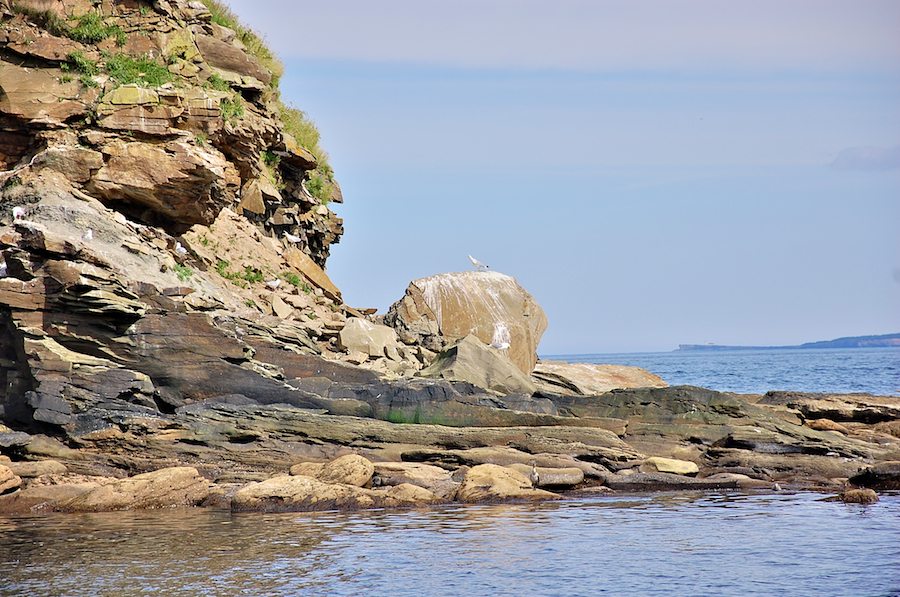 In photo #3, more gulls are visible as the tour boat reaches the end of the island. The upward-sloping headland of Point Aconi at the eastern end of Boularderie Island is again visible across the waters in the far distance. Another black seam is found in the rocky shelf, but it stops at the protruding rock and goes no further.
In photo #4, two grey seals are basking in the sun on a rocky outcropping just off the southern tip of the island. The shores, forests, and fields of Boularderie Island lie peacefully, if hazily, across the water in the distance. A gull is enjoying a swim, bobbing on the waves. What a picture of peace and contentment!
What a lovely afternoon it has been! And what an odyssey!