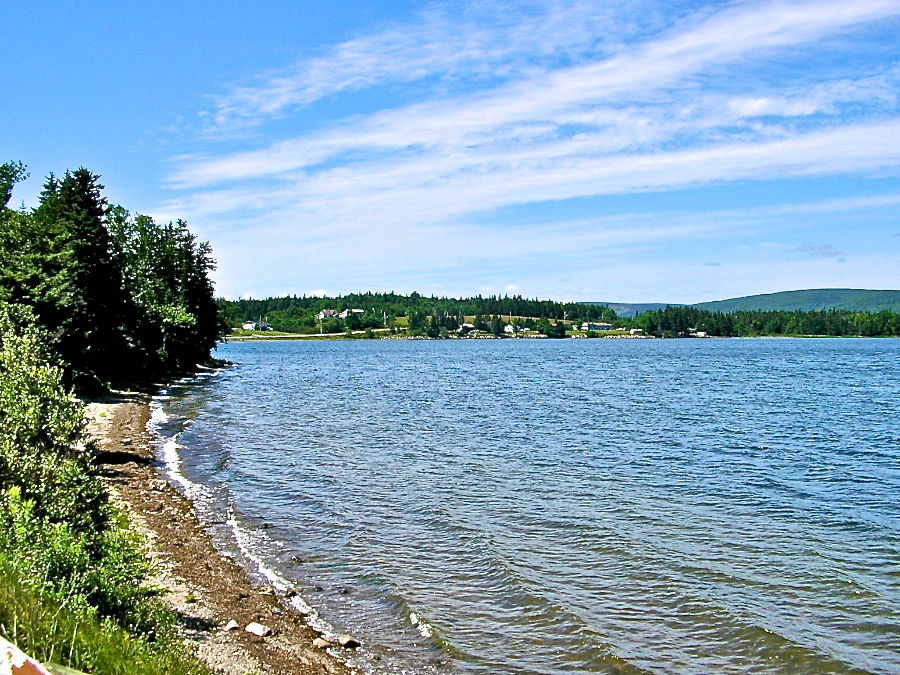 This photograph was taken from a bit further east on Portage Road 4 km (2.5 mi) from its junction with the Orangedale Road; it shows the (unnamed) bay and the cottages and homes that line its shore. Portage Road itself can be seen in the middle left of the photograph just above the water. The mountain at the right of the photo is a prolongation of Skye Mountain that runs to the southwest above the Trans-Canada Highway, eventually becoming "The Big Ridge".
The name Whycocomagh (Hogamagh in Gaelic) is derived from We'ko'kmaq, a Mi'kmaq word meaning "Head of the Waters", reflecting the village's site at the head of Whycocomagh Bay. The village is home to two cultures living side by side, the Mi'kmaq Indian and the Scottish Gaelic. For further information about the Mi'kmaq community, see this web site.
[2012] The Scottish Gaelic community apparently no longer has a web site of its own; the link to the old one is broken. This Wikipedia stub article is the only relevant non-commercial web site that I was able to find during this revision.