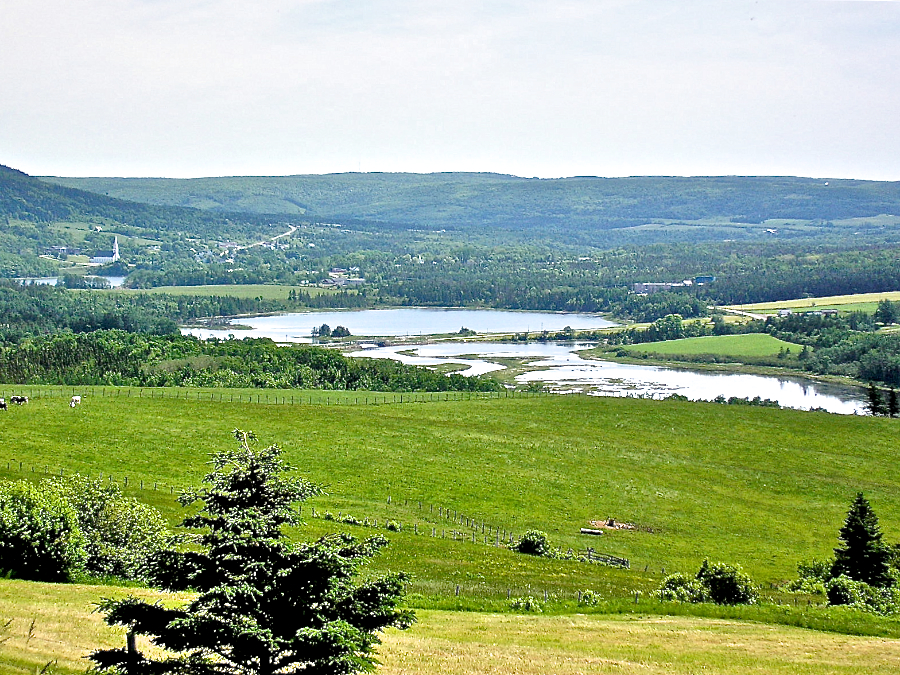 Taken from Hunters Road in West Mabou, this almost aerial view shows the mouth of the Southwest Mabou River and should help better understand the lie of the land in the photos that remain in this essay.
The Cèilidh Trail (Highway 19) can be seen at the right of the photo above the green field and again beyond Mabou village climbing around Mabou Mountain. The building in the middle right is Dalbrae Academy, which houses the very fine Strathspey Place theatre, site of concerts throughout the year. The Mabou River can be seen at the left of the photo below the steeple of St Mary's in Mabou village. West Mabou Road and the bridge over the Southwest Mabou River nearer the Cèilidh Trail are visible in the center of the photo, dividing the water, all of which is part of the Southwest Mabou River, into two parts: Big Cove downstream of the bridge and the river delta above it. The bridge that is there now replaces one of an older, more picturesque design that was destroyed by a severe storm in 2004, if memory serves. There is a second, smaller, bridge across the Southwest Mabou River that is not visible in this photo, as it lies beneath the hill at the left of this photo.
If this gorgeous view doesn't convince you to drive up Hunters Road and have a look for yourself, nothing will. But this isn't the only view from up there; there are others of Mabou Mountain, the Mabou River, and the Cape Mabou Highlands that are equally stunning, as well as the views to the south and east which are certainly worth seeing. No simple photograph can capture the glorious panorama that awaits you there!