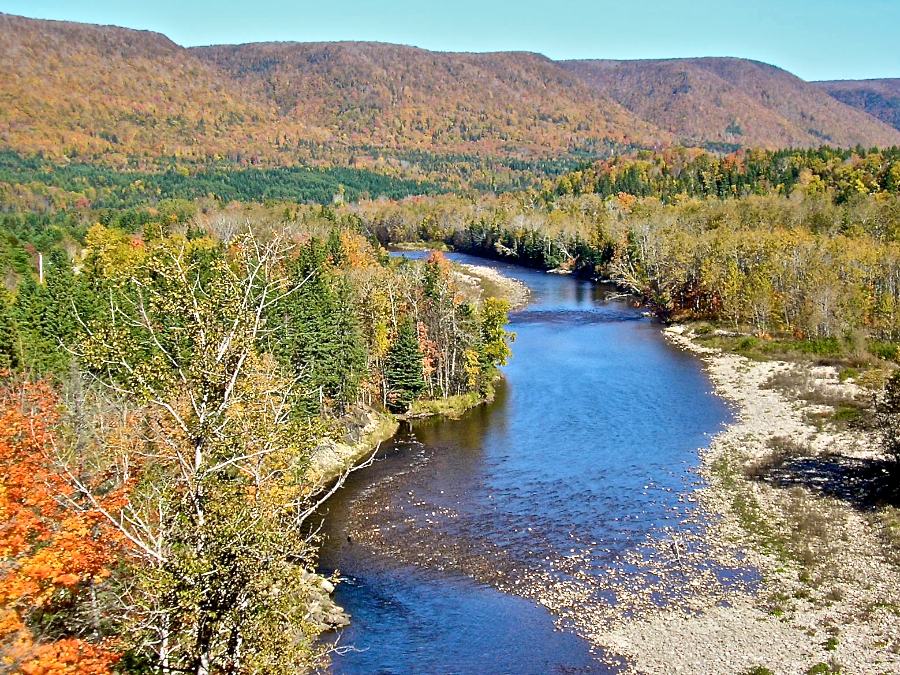 At the east end of the village of Northeast Margaree, a road (paved, but without a provincial route number) turns to the northeast and leads to the locality of Margaree Valley from which a road leads first to the Margaree Fish Hatchery and then on to Portree where it crosses the Northeast Margaree River and loops back to Margaree Valley. On the return, the road climbs to the point from which this photo was taken. It's not properly a look-off, just a wide shoulder at the side of the road, but the views from this point of the Northeast Margaree Valley and its enclosing mountains with the Northeast Margaree River immediately below are wide and spectacular. The easiest way to find this road and its views is to follow the blue museum signs for the Margaree Fish Hatchery: continue past it and follow the loop.
The Margarees have always been one of the most fruitful places to seek out reds and "blazing forest" views on bright sunny days, like this one. The views this day, though brighter than they appear here, were somewhat duller than last year; as the photo shows, there are numerous deciduous trees that have few or no leaves left on and this is doubtless the reason why. Moreover, the reds were mostly missing when I was elsewhere in the Margarees this year, though a few isolated trees could be seen at various places along the road.
The waters by the bridge over the Northeast Margaree River at Portree attract salmon fishermen; it's also a beautiful place in its own right, with fine views of the Northeast Margaree River in both directions. If you have the time, the 14.8 km (9.2 mi) (one-way) drive out the (gravel) East Big Intervale Road is also very pretty; it winds between Sugarloaf Mountain and the base of the mountains on the east of the Margaree Valley, leading to Kingross and the Big Intervale Fishing Lodge at the end of the road, with excellent views of the Northeast Margaree River.
There are also lots of hiking trails and hikable snowmobile trails in this area; stop at the Visitor Information Centre in Margaree Forks for detailed maps and directions. (I also hope to have this information on my web site eventually; I describe one of these hikes here.)