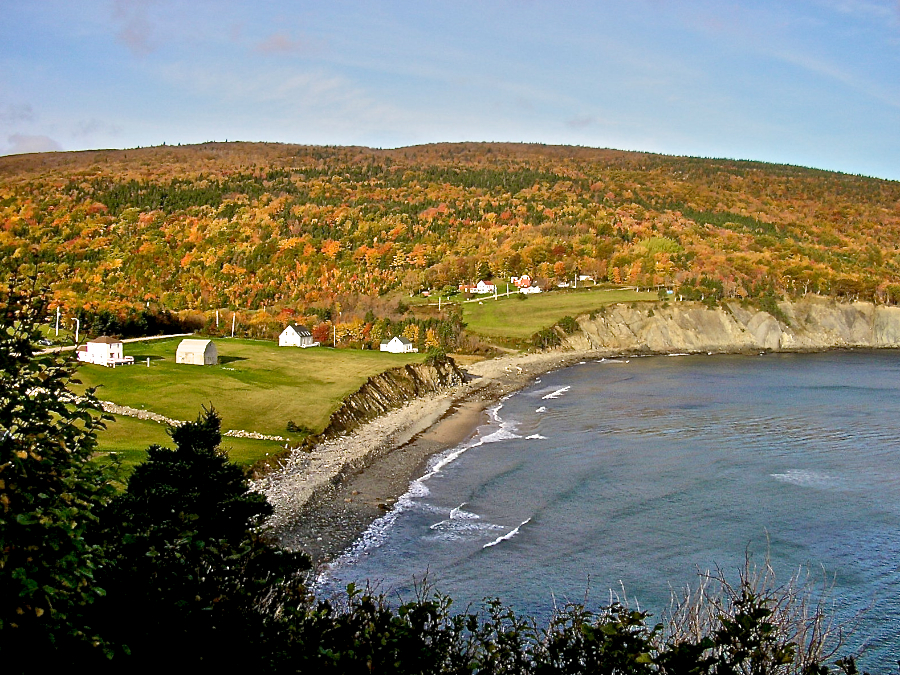 Capstick, which lies on the northern Cape Breton coast, was once named Wreck Cove, but was renamed Capstick for the many family members of that name that lived there when the post office resolved the confusion with another Wreck Cove near Neils Harbour. A pier was once located out from the shore where the road can be seen running down to the cobblestone beach in the center of the photo; it was torn down in the last third of the 20th century—only a few huge blocks of concrete and an iron bar remain to indicate where it once was.
The waters of the cove are grey rather than blue because of the cloud cover that had arrived in the night, ending the streak of six perfect days. However, at this point, the sun had broken through the clouds and lit up the mountains behind Capstick. Unlike those on the east side of the Cape North massif, these were more colourful and even had a scattering of bright red trees. A significant number of denuded trees can be seen near the summits of the mountains as well as close to the coast.
This site is beautiful in its own right, but from it, one also has stunning views of the Cape North massif and the coast towards and beyond Bay St Lawrence. I greatly enjoyed the August night I spent in the white cottage (formerly the general store and post office) located by the red barn in the centre of the photo and the conversations about Capstick with my host, to whom I am indebted for the tidbits of Capstick history I've presented here. The sunrise the following morning was also spectacular as it slowly climbed over the Cape North massif, finally breaking forth in all of its glory.