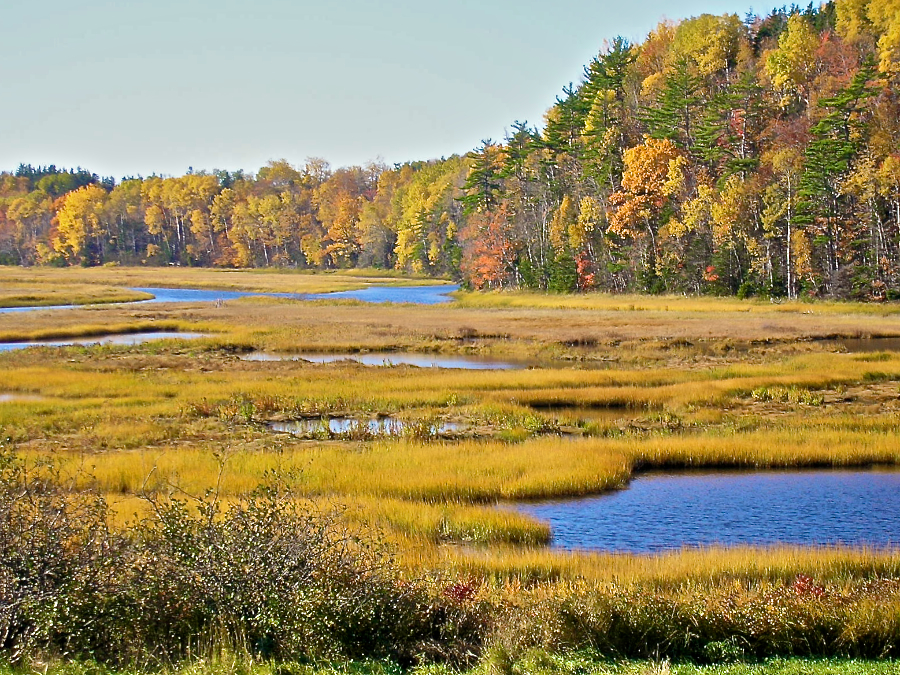 This view of the Southwest Mabou River as it meanders through its delta is from the West Mabou Road on Nicholsons Island a bit before one reaches the bridge over the smaller channel of the Southwest Mabou River. It could aptly be called a composition in yellows, as both the marsh grasses and nearly all of the deciduous trees are clad in brilliant yellows and golds under the morning sun, with an occasional orange thrown in for an accent. The greens in the foreground attest to a lack of a hard frost here, while the evergreens interspersed with the hardwoods highlight the latters' colours. And the blues of the sky with its occasional cloud reflected on the waters of the river add their beauty to the whole scene. What a gorgeous sight!
While I was snapping this scene, an eagle passed overhead, looking for its breakfast, but was gone before I could take its photo. Every time I visit this beautiful area, there is always some wildlife to see, if only a gull or a frog; it's always a busy place!
The Southwest Mabou River is one of my favourite places in Cape Breton; you can find a whole photo essay dedicated to it here.