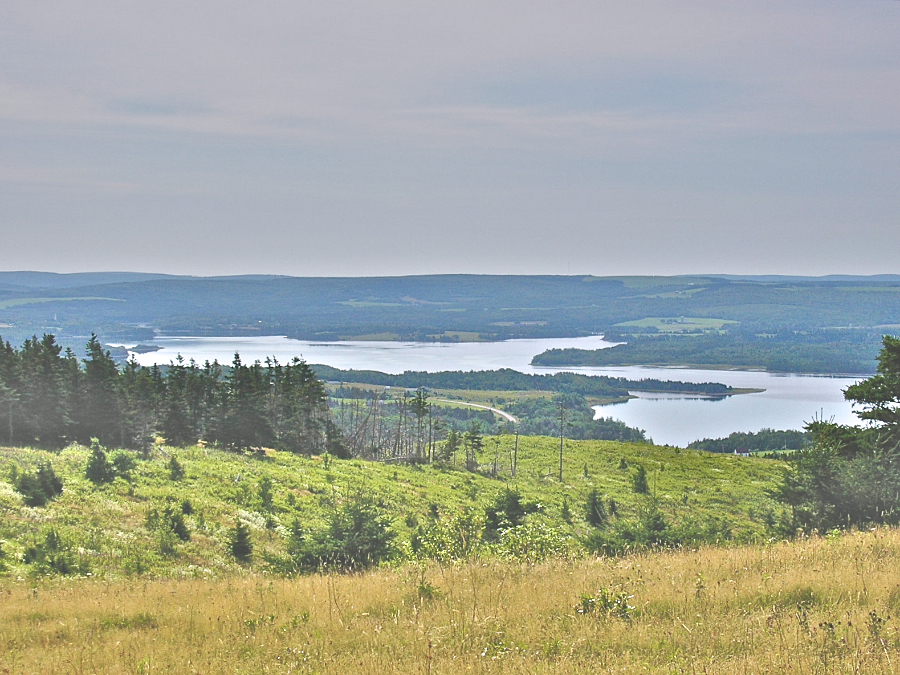 This is another of the marvellous views from Mabou Harbour Mountain and shows well the lay-out of the middle portion of the Mabou River. The road in the centre of the photo is Mabou Harbour Road, which is well inland from the river's edge here, though it comes much closer to the river at other points along its route.
MacPhees Island is the land which juts out into the river at the right of the photo; the main channel of the river passes on its far side. Indian Point is the isthmus which sticks out towards the centre of the photo on the south shore of the river. The Southwest Mabou River joins the Mabou River upstream of Indian Point. Murphy Point is the broad expanse of shore in the centre of the photo. At the left of the photo is the mouth of the Northeast Mabou River, which forms Northeast Cove, seen behind the isthmus there (MacEacherns Cove is on this side of the isthmus). St Marys steeple in Mabou Village is barely visible at the far left of the photo and marks the main course of the river upstream, where it passes by Priest Point and narrows greatly from the wide expanse one sees here.
Here, as throughout its course, the Mabou is surrounded by highlands, as this view shows very well. It is the interplay between mountain, forest, field, water, and sky that makes this such an enthralling place.