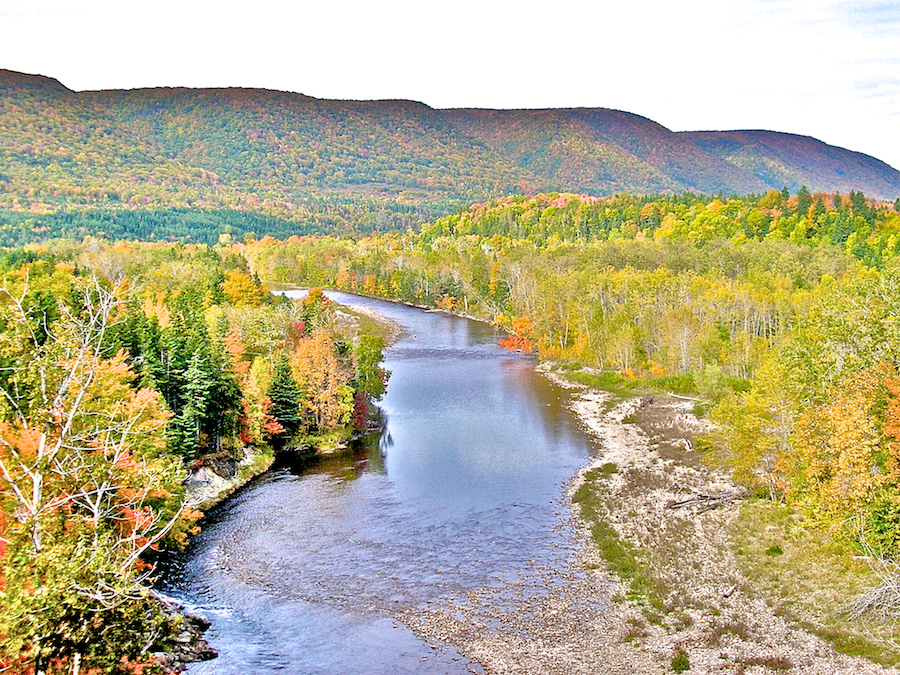 The Margarees are justly known for their brilliant fall colours, but they were far from their peak on this day. While there were indeed reds to be seen, the overall state of the foliage is considerably less than what it was last year; last year's essay has a photo taken 2006 October 11 (i.e., one day later than this photo) from the same spot as this one; it shows considerably brighter colours.
The west side of the Portree loop road is called West Big Intervale Road and the east side is called Hatchery Road. To find the Portree loop road, take the Cabot Trail to the east end of the village of Northeast Margaree, where the East Big Intervale Road, a paved road without a provincial route number, leaves the Cabot Trail (at GPS 46°19.560'N 61°00.066'W) and proceeds northeast. Continue for 6.3 km (3.9 mi) through the community of Margaree Valley, where you will see a road on your left that has a Salmon Hatchery sign. That road is Hatchery Road, the beginning of the Portree loop road. You will first come to the salmon hatchery, after which you will continue on to the Portree Bridge, where you will likely want to stop and admire the fine views of the Northeast Margaree River and the surrounding area from the bridge; it is almost a certainty you will see one or more fishermen there trying their luck (it is a very popular salmon fishing spot—the day I was there this fall, there were at least a dozen fishermen in the water and, in the space of a few minutes, I saw two salmon take the bait and break the water as they were being reeled in, but each angler lost his fish immediately after it surfaced). Some distance beyond the Portree bridge, the road climbs to the point from which this picture was taken: it's not properly a look-off, just a wide shoulder at the side of the road and fairly easy to miss if you're not aware it's there, but the views are definitely worth stopping for.
The Portree loop road is a great drive in any season, with its spectacular panoramas of the Margaree Valley and its fine views of the Northeast Margaree River from the Portree Bridge. Hiking trails are also available in the area; one of them, which starts beside the Portree Bridge, is described here. Inquire at the Visitors' Centre in Margaree Forks for information on the other trails.