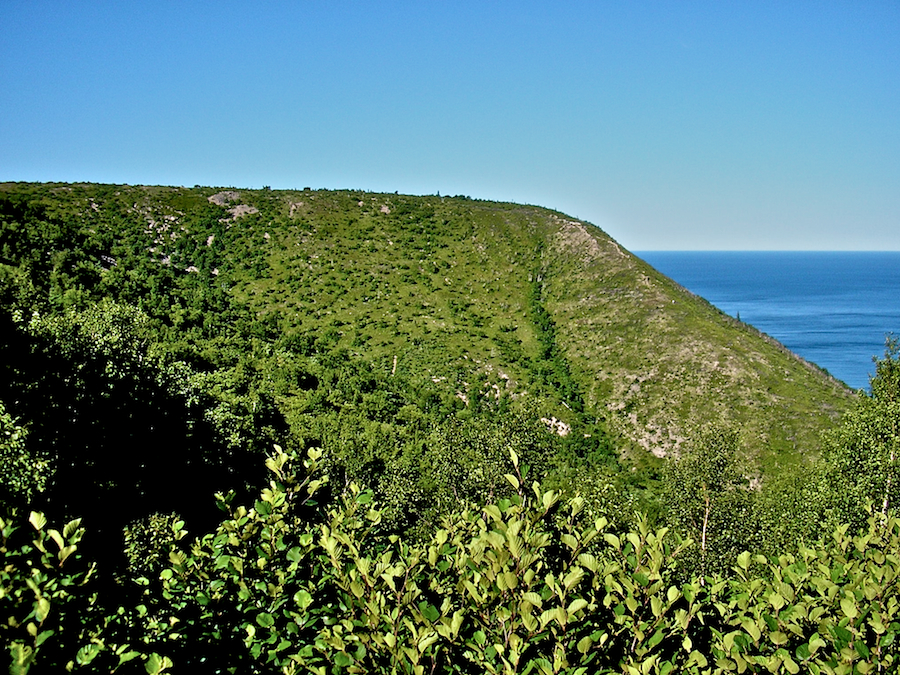 This view, from the same spot as the previous photo, looks across the ravine that borders the Cabot Trail as it ascends the north side of the ridge to the site of Cape Smokey Provincial Park, which sits atop the plateau one sees in the upper middle portion of this photo.
Much of Cape Smokey was burnt by a forest fire in the mid 20th century (Haynes says (p. 84) the 1940's, O'Neil says (p. 63) the 1960's, and web sites such as this one say 1968). Like most of the Cape Breton Highlands Plateau, its soil is poor, so vegetation takes a considerable time to recover from any setback and especially so where the plateau is close to the water and subject to frequent strong winds and severe weather, as here. The slope below the park was clearly considerably damaged by the fire, as the only healthy vegetation one sees there follows the line of trees in the centre right of the photo, apparently following a run-off path down the slope into the ravine. The remainder is grass or stunted brush or small trees until one gets close to the head of the ravine or well down into it, both places somewhat more protected than the areas closer to the water or more directly buffeted by the winds.
The topographic map and The Nova Scotia Atlas both show a geographic feature named Ross Beach which lies along the shore directly below this slope, but it is too narrow to be seen until considerably further east—it is so narrow that on the topographic map, the contour lines are adjacent to the water.
If one looks at the point where the plateau begins to descend sharply down and first intersects the line on the horizon between the sky and the water, one will see what appears to be a sand/rock path that continues halfway down the slope. I was unaware of this path's existence, but, while taking the photo, I noticed four people who were at various points along this path, mere specks of colour in this photo. On rereading Haynes, however, I see that he cautions, "Do not venture along the ridge line at the south end of the park, despite the appearance of paths. This is not part of the trail system, and the footing is very uncertain." (p. 87) Because of the constant erosion in Cape Breton, it is usually a terrible idea to approach the edge of a cliff unless a well-defined path crosses it. This is not such a path and you should stay clear of it.