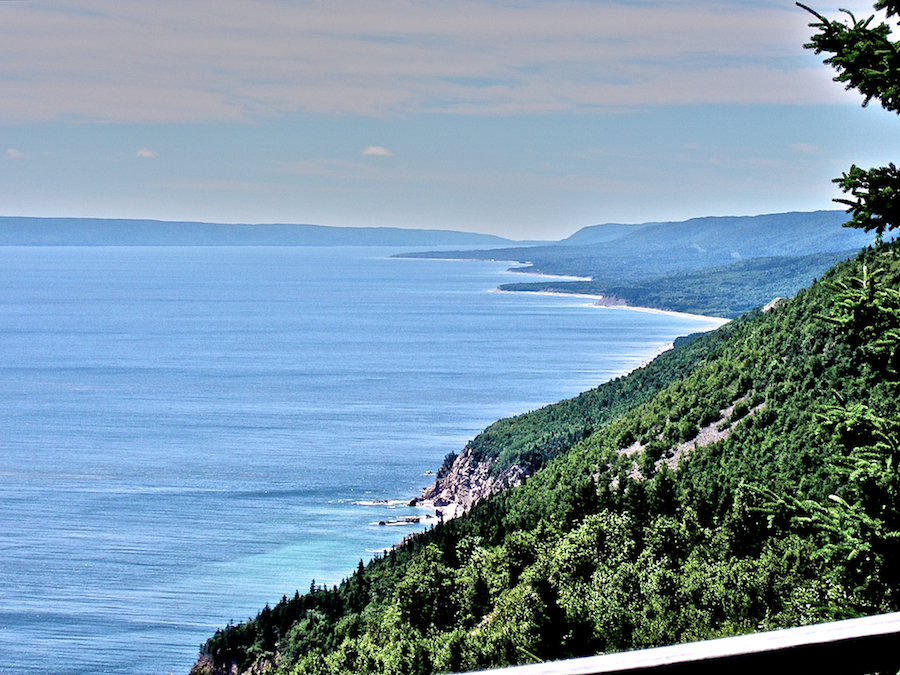 This photo was taken from the same location as the previous one, but is of the view to the south rather than to the southeast; the rest of the Great Bras d'Or Massif can be seen across the left to well beyond the middle of the photo.
The first thing that struck me when I got here was that I had moved conserably east as much more of the western coast line of St Anns Bay is now visible and one can even see a bit into St Anns Harbour; compare this view with that in the fifth photo, taken from the parking lot. Checking the topographic map, one sees that this look-off is indeed about 1.4 km (0.9 mi) further east of the parking lot.
The plateau on which the parking lot itself sits is not visible here, being hidden behind the flank of the ridge one sees back of the tree at the far right of the photo; the third look-off is not yet high enough to see over that flank.
The white lining the shore as far as the eye can see down the coast is caused by the waves; from the thirteenth photo, however, one can tell that this was not a very heavy surf, just the waves gently splashing ashore. Pretty nonetheless…
If one looks carefully at the right third of the photo about two-fifths of the way from the top, one will see an undulating fairly wide brown band crossing the mid-height hills in the distance. This is a power line which I assume leads to and from the Wreck Cove hydroelectric generating station.