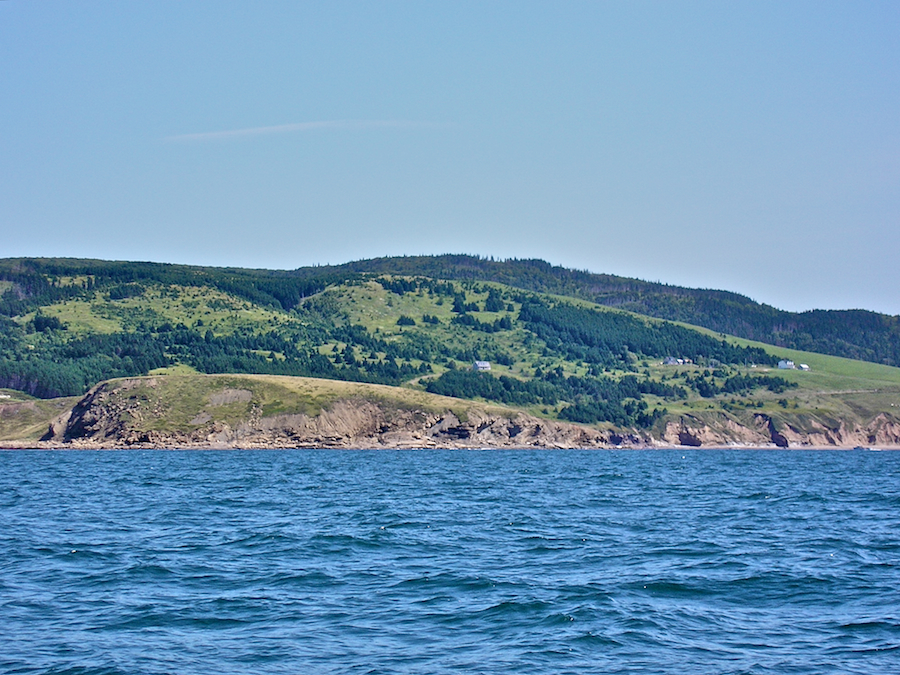 There is very little overlap between this photo and the previous one. The large land mass at the left extending past the centre close to the water is Finlay Point. The harbour is in the lee of this point to the right of the centre of the photo; its buildings are not visible here, hidden behind the dark grey rocks at the centre right of the photo, probably also witness to coal deposits, but the southernmost part of the breakwater can be seen low to the water. The 45° tilt is again noticeable here in the western flanks of Finlay Point; the tilt has the same orientation as that of the cliffs previously seen along the MacDonalds Glen coast.
Coal Mine Beach lies behind the breakwater and below the cliffs; it is a white sand beach that is popular on warm summer days. Mabou Mines Road can be seen atop the cliffs at the far right of the photo, descending to a junction with the Finlay Point Harbour Road that leads down to the wharf.
Finlay Point is named for Finlay Beaton. According to p. 595 of J. L. MacDougall's History of Inverness County Nova Scotia, Finlay, with his younger brother Alexander, "were grandsons of one Alexander Beaton from the Isle of Skye, who had gone to Lochaber about the middle of the 18th century." In 1804, Finlay and Alexander sailed from Lochaber to Prince Edward Island; in 1809, they "crossed over to Cape Breton and settled at the Coal Mines of Mabou." These two Beaton brothers were the first Scotsmen to settle there. On p. 600, we learn that the "next family after the Beatons to settle in the Coal Mines was the Rankin family." John Rankin and his family "emigrated from Lochaber […] in the summer of 1819." Thus, this area's settlement began with two families whose descendents still play a very prominent rôle in the area today.