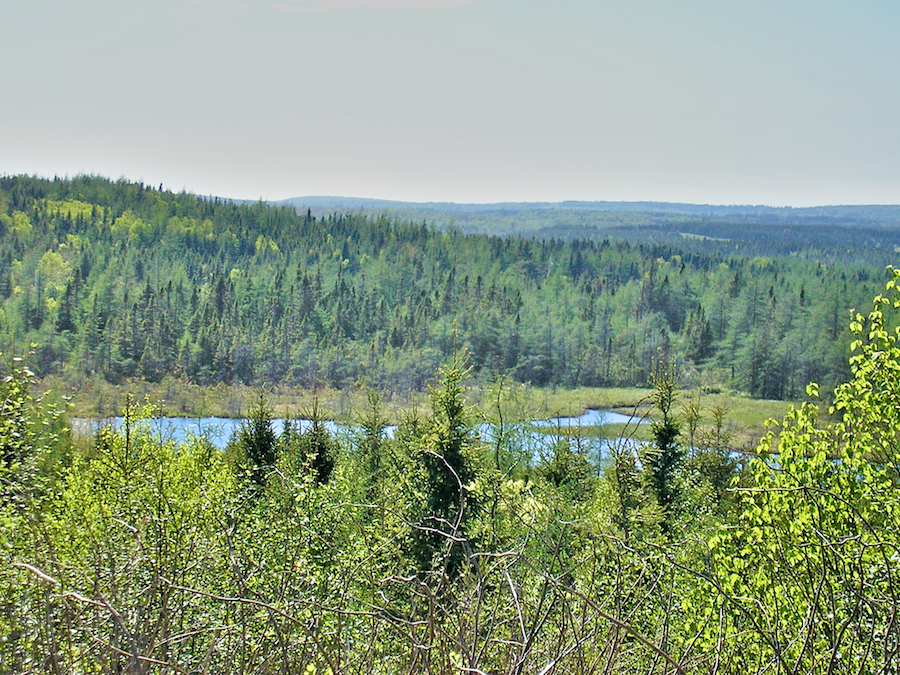 The previous photo was taken from Highway 327 northwest of Gabarus; this photo returns us to Gabarus Lake, seen in this essay's first photo, south of Gabarus, not far north of the Cape Breton County line, on the Grand Mira-Gabarus Road, at this point a gravel road heading up over the hills towards the Mira River valley. The remainder of this essay will be given over to the Mira River and its valley, seen from several different vantage points as we examine it from south to north along its entire course. I apologize for this discontinuity between the last photo and this one, but I know of no better way of arranging the presentation of this essay. So, imagine you have taken a U-turn at the house with the beautiful dandelion lawn and driven back south along the Fleur-de-Lis Trail until you have arrived at its junction with the Grand Mira-Gabarus Road. If you then follow that (gravel) road and ascend the hills towards Grand Mira South, you will soon come to this vantage point at the top of one of those hills.
This view to the north of west gives one a very good idea of the heavily forested terrain in the area where the Mira River has its source and looks towards the hill country sporting the successive long ridges running from southwest to northeast that characterize this area. The water one sees below is an unnamed pond and a stream that flows into it.
The leaves of the deciduous trees one sees in this mixed forest have only very recently appeared. Look especially at the those on the far side of the stream: each one has its own distinct colour, making each one stand out from those next to it: they have not yet matured enough to arrive at a common shade of green, as they will as the season progresses.