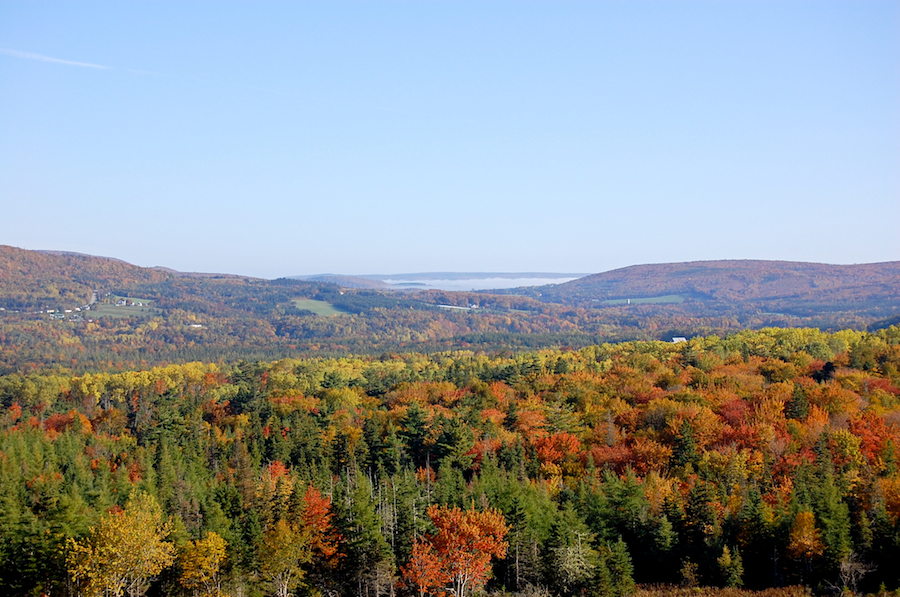 This day was definitely the best day for photography during the entire festival; my notes label it as a "perfect day"—sun and blue sky throughout. Of course, with both an afternoon and evening concert, I couldn't take full advantage of the wonderful weather, but I did what I could.
If you know the Mabou area well, you will be confused by the water that appears in the distance in the center of the photo. That's because it isn't water at all, but early morning fog which had not yet burnt off! The fog was already widespread the previous night—it slowed my return from the Sydney concert—and the cold, otherwise clear night had kept it in place. It was still a very cold morning with a thick coating of frost on my windshield, but crystal clear on the hills and a perfect day for pictures. The evening's frost seems to have brought out a lot of reds in this stand of trees on the side of Southwest Ridge and colours can be seen on the hills in the distance. Still not at their peak, they are now definitely getting there.
Southwest Ridge Road leads from the Cèilidh Trail (Highway 19) in Mabou up and over Southwest Ridge and down the other side; beyond the Mull River Road, it becomes known as the Whycocomagh Road and leads on to Glencoe Mills, site of the great hall of traditional Scottish music. This lovely view from part way up is to the northeast; Mabou village can be seen at the far left below Mabou Mountain and the mountains behind Smithville are at the right.