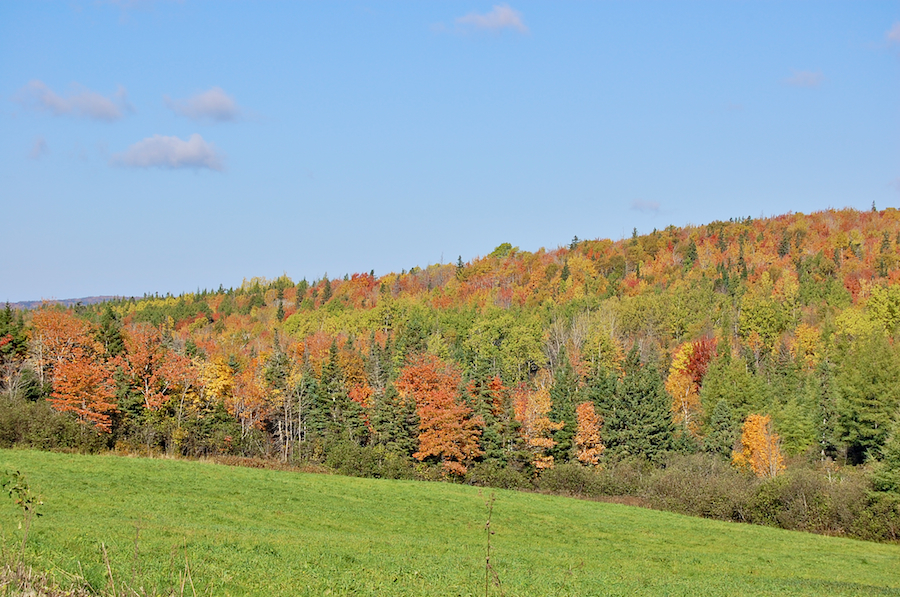 Here, at Glencoe Mills, on the Upper Glencoe Road, the grass is seemingly unaffected by the frost, as are the bushes at the edges of the field, but the colours are still bright, with reds of several shades interspersed with the oranges, limes, golds, and greens.
Glencoe Mills, which can be thought of as lying at the hub of a wheel whose spokes are roads that radiate out to the surrounding communities of Port Hood, Judique, Whycocomagh, Brook Village, and Mabou, is in the back country bordering the Bornish Hills. It has become one of my favourite places to drive because of its forests and farm lands cheek by jowl across an undulating terrain, not to mention its infrequent traffic. Moreover, lots of side roads fork off the main roads, begging to be explored as well, each one offering its own distinct character and rewards. After eight years of visiting in the area, I still have not driven all of the roads the area offers and I continually find roads on maps that I have often passed by unawares.
In the fall, these roads are lined with beautiful colours such as one sees here. The drive from Mabou to Whycocomagh via Southwest Ridge and Glencoe Mills, which I was doing (with several detours) this beautiful morning, is always a marvellous fall drive, especially on such a fine day as this one.