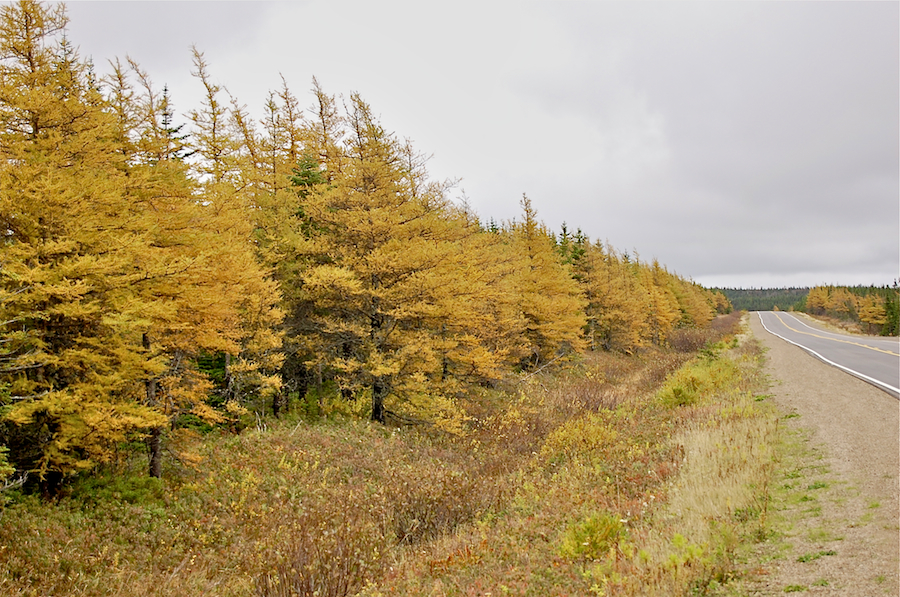 The following day, I decided to explore the Cabot Trail on the other side of Cape Breton. The weather was mostly overcast, though there were a few sunny breaks. Most of the photos I got that day are dull, like this one, though still not without interest.
This view is on the top of French Mountain just before the parking lot for French Lake. From the top of French Mountain to the hill where the weather station and the Nova Scotia Department of Transportation and Infrastructure Renewal webcam are located (at GPS 46°43.933'N 60°50.669'W), a distance of 1.9 km (1.2 mi), the Cabot Trail is lined with tamaracks, which had already changed to their golden colours for fall (their needles fall off in the winter). There are many evergreens interspersed with the tamaracks along this part of the road, but north the aforementioned hill the tamaracks become fairly rare.
Because I could not recall seeing this glorious row of golden tamaracks in previous years, I looked through my collection for similar views from in past years and found only one, from last year; in it, the tamaracks were still nearly all green, though a few had a noticeable tinge of yellow. This year's Celtic Colours festival is rather later than usual (it ran from 10-18 October), so that probably explains why I did not remember seeing them before.