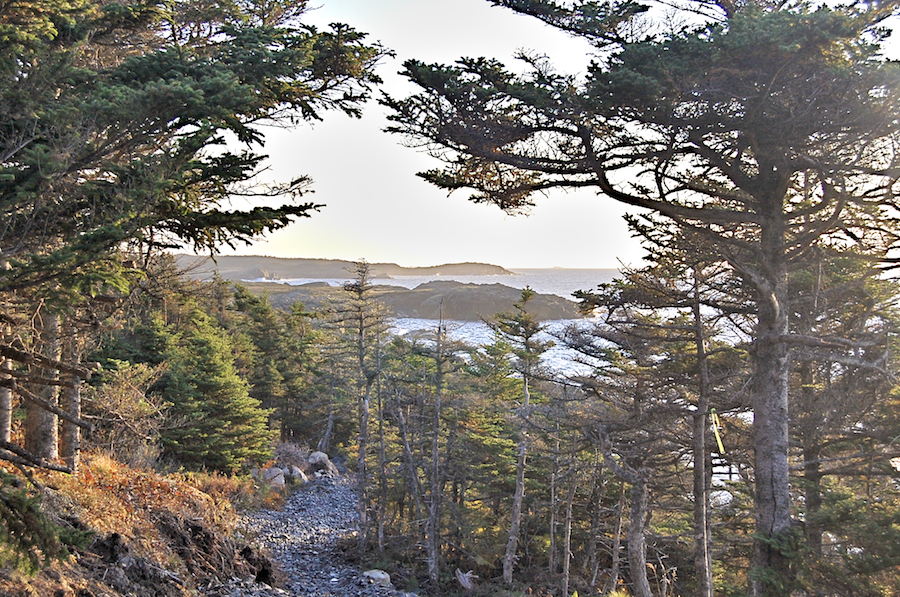 As I was walking about Lighthouse Point, I noticed that a new trail was under construction; according to the sign at the east end of the parking lot, it was undertaken by a joint effort of Service Canada, the Province of Nova Scotia, the Fortress of Louisbourg Association, the Louisbourg 1995 Society, the Louisbourg Merchants' Association, and the Cape Breton Regional Municipality. Although I had not planned on spending much time here, as I was hoping to get to Kennington Cove in this fine weather, I decided to spend a few minutes at least seeing where the trail went since it was but 7h35 and I still had plenty of time before breakfast for a short walk.
Twelve minutes later, I had crossed a boggy area on a boardwalk and climbed part way up the hill which rises behind the lighthouse, from which I shot through the trees the lovely view in photo #1 of the coast to the east. There are a number of coves along this shore, some of which are obscured by the lie of the land in this photo, and I am not familiar enough with the features here to be certain of identifying them on the topographical map. Nevertheless, I believe the nearer point in the centre of the photo is Western Gun Landing Cove Head and that beyond it in the far distance is Lorraine Head.
The trail, which one can see in the foreground, is here constructed of very large (fist-sized) crushed stone, clearly a base for a better walking surface to be laid in the future.
Three minutes after I took this photo, I was looking up at the cliff in photo #2, golden in the morning sun. I do not know whether there is any way up to its top—there were certainly no side trails that I saw—but I can imagine the glorious panorama that would await one from somewhat higher up!
[2012] There is now indeed a short, steep side trail at the eastern end of the cliff, certainly built after the hike described on this page, which leads up to the top of the cliff (nowhere near as tall as it appears in this photo, however—it's likely not more than 25 m/yds in height, but still tall enough one sees over the trees below), where one now finds a bench from which to survey the lovely scene; as I had imagined, the panorama is magnificent! When I was on this trail in 2011, described here, I discovered that it now sports a finished fine sand tread (over the large crushed stone base that was the tread mentioned above) and offers such other amenities as interpretive panels, benches, and railed belvédères. Moreover, it is now possible to continue beyond the end of the Louisbourg Lighthouse Trail all the way to Lorraine Head, a marvellous hike on a sunny day!