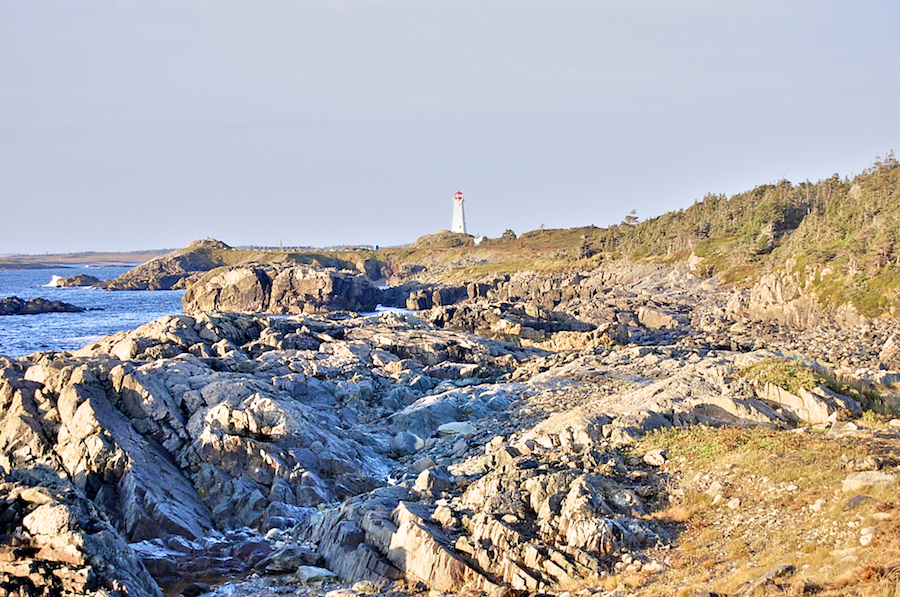 Ten minutes later (about a half hour east of the lighthouse), I had come out on what I take to be Western Gun Landing Cove Head, from which I took this shot of the rock-bound coast looking back west southwest towards the lighthouse. If you look carefully about a third of the way in from the left, on the far horizon you will see buildings at the Fortress of Louisbourg across Louisbourg Harbour and, in particular, the steeple of the chapel in the King's Bastion.
The Nova Scotia Lighthouse Preservation Society's web pages for the Louisbourg Lighthouse describes the current structure, seen in photo #2 in the golden morning sun from close up, as "an octagonal concrete tower, white" that is 17 m (55 ft) high; even though it is superficially similar, this is most definitely not the typical wooden lighthouse seen in many other places on Cape Breton Island. The current lighthouse is the third lighthouse constructed on Lighthouse Point, having been built in 1923 and commissioned in 1924; the lighthouse was automated and de-staffed in 1989. The French built the first lighthouse here in 1731-1734 and began operating it in 1734; it was the first lighthouse to be established in Canada and the second on the North American continent (the first one was in Boston in 1716), but it was severely damaged by the British during the second siege of Louisbourg and abandoned as beyond repair. The second lighthouse on this site was completed in 1842 and served until it was destroyed by fire in 1922. See the Society's web pages for much more information, photos, and plans of these interesting lighthouses.
Even before the new trail was started, Lighthouse Point was a very interesting place to visit. In addition to the lighthouse, there is a fog horn perched on the rocky knoll above the parking lot (just barely visible in photo #1 at the top of the knoll about a quarter of the way in from the left). There are several interpretive panels both near the lighthouse (one of which can be seen in photo #2) and at a parking area along the entrance to Louisbourg Harbour before one reaches the lighthouse. The views across the harbour to the Fortress are very fine and the islands in the harbour are most interesting. But, for my eyes at least, it is the rocky coast and the waves splashing onto it that draw my attention back again and again.