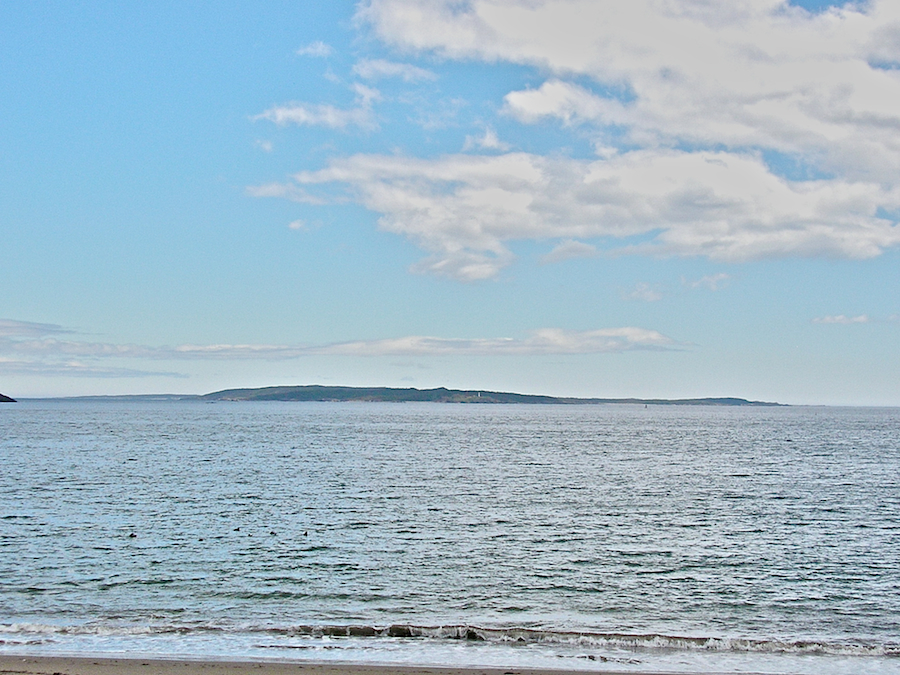 Photo #1 was taken the day after the one on which the previous photo was taken, and the weather was substantially improved by the time I had gotten back to Main-à-Dieu. It shows Scatarie Island as seen across Main-à-Dieu Bay and Main-à-Dieu Passage from the boardwalk area outside the village of Main-à-Dieu.
Just before one reaches the community of Main-à-Dieu along the Louisbourg-Main-à-Dieu Road from Little Lorraine Harbour, one will notice on the right public boardwalks that allow one to access the beach from the road without damaging the vegetation anchoring the dunes that lie behind the beach. Photo #2 shows just a part of this extensive system of boardwalks, which runs from near the village on the north side of Main-à-Dieu Bay to near the south side. There are also raised belvédères where one can sit and enjoy the beautiful views; the photo at the top was taken from one of those belvédères.
Scatarie Island is approximately 10 km (6.2 mi) long and lies in a west-to-east orientation about 3 km (1.9 mi) east of Main-à-Dieu Harbour across the Main-à-Dieu Passage. It is the second largest island off the coast of Cape Breton (Isle Madame is considerably larger).¹ Lighthouses have been established at both ends of the island: the westernmost is known as the Main-à-Dieu Lighthouse and the easternmost as Scatarie Lighthouse; the western one can be seen just right of centre in photo #1 as a small white speck sitting on a grassy knoll. The land at the left is Grandfathers Head on Cape Breton Island. The land at the far horizon between Grandfathers Head and Scatarie Island is an island across Mira Bay on which the community of Waddens Cove is located, of which more later.
Scatarie Island along with several of the adjacent islets together with the waters for one statute mile off shore now forms the Scatarie Island Provincial Wildlife Management Area. It is therefore no longer inhabited, though some buildings from the former community there remain standing. The act governing the use of this Wildlife Management Area can be found here. This account of a geocaching event on Scatarie Island includes some fine photos taken there during the event.
---
¹ I am not completely certain about this assertion: the island on which Waddens Cove is located is not as long as Scatarie Island, but it might have a larger area—it is hard to be sure by simply eyeballing the topographic map. I am unable to find precise area measurements for either island.↩