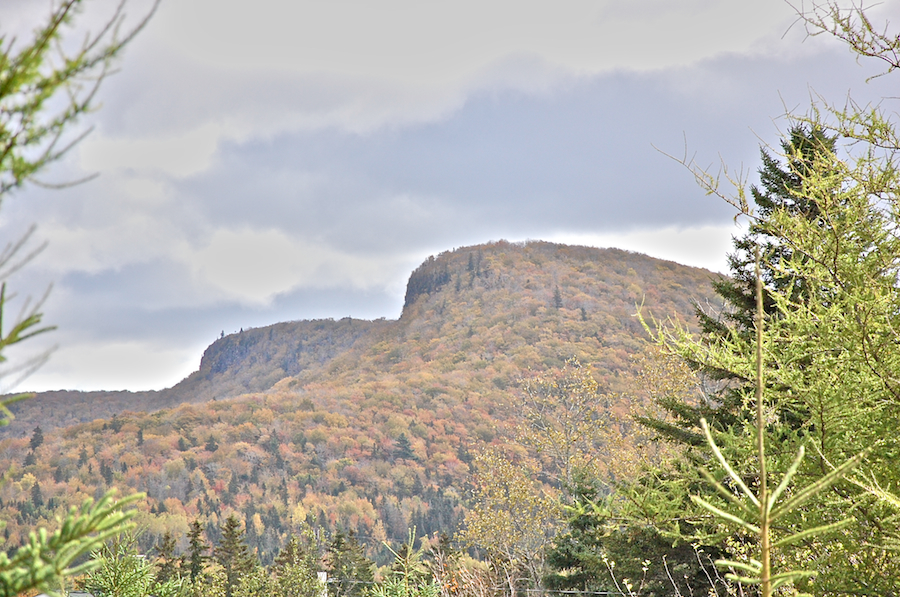 Friday, the sun made no effort to come out at all; it was rainy (snowy if one were at a high enough elevation) and miserable all day long. I began the day by looking at the webcams and found well over a foot of snow beside the road on French Mountain, in the Cape Breton Highlands National Park. I was very thankful I didn't have to drive north after last night's concert! I later heard the harrowing adventures of those who tried to make it back across the highlands to Chéticamp after the concert in Dingwall! They fortunately arrived safely, but with palpitating hearts! Moose and icy mountain roads do not a good combination make!
The Buddy MacMaster School of Fiddling is held at the Celtic Music Interpretive Centre each week-day during the main Celtic Colours Festival week and its instructors play at the lunchtime cèilidhs for their students and interested festival-goers. Given the weather, I went over there for lunch and heard Ashley MacIsaac play with Allan Dewar; when Ashley went back to teaching, Michael Hall took his place on the stage. The food has always been superb there, making it an ideal place to enjoy music at mid-day. After the cèilidh, I drove back over the MacLellan Road again, with the results previously seen, and drove around the Brook Village area in the rain until it was time to meet some friends for dinner at the Tulloch Inn. Friday night's concert in Inverness continued the streak of fine Celtic Colours concerts; afterwards, I drove on through the still-falling rain to Southwest Margaree for the dance. So, in spite of the rotten weather, I had a great day.
Saturday, the last day of the festival, was again mostly grey skies, but the rain had mostly stopped (though there was occasional misting) and the skies at least showed white where the sun might possibly break through. The sun did deign to brighten up the beautiful maples which line the Mabou River to the west of the docks beside the Cèilidh Trail in the village and I got some good photos of them in the sunlight, but the hoped-for breakthrough with blue skies never materialized. I got the photo above of Whycocomagh Mountain's distinctive profile from Highway 252 on my way to the afternoon Pipers' Cèilidh at St Anns; the mountain's shape at this point (it appears to constantly change as one drives this section of Highway 252) reminds me of two giant ramparts forming part of a mediæval castle's fortifications over which one would not be at all surprised to see armed soldiers peering down. The light, alas, does not do the colours justice: they were, in fact, far brighter than this photo shows.