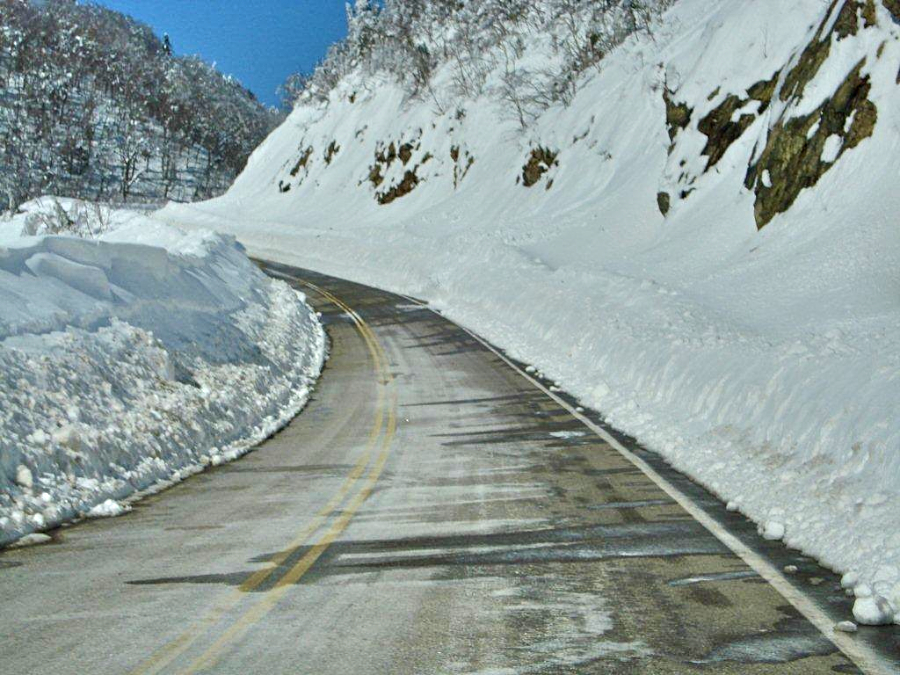 If memory serves, this view is not too far above the uppermost look-off on North Mountain, where the Cabot Trail winds along the cliff faces of North Mountain upwards toward its summit in the direction of Pleasant Bay. Well below the cliffs at the upper left, MacGregor Brook runs through the roughly 2.5 km (1.6 mi) long ravine it has carved on its way to the North Aspy River, which it joins to the southeast of the second uppermost North Mountain look-off.
Here, there is clearly a problem with what to do with all the snow in a place that has very few options for its ready disposal! The substantial ditch below the cliff faces on the right has already been filled to capacity and the snow piles on and over guardrails on the left along the ravine are already very high.
How different this wintry scene is from how it appears in the other seasons. On this beautiful day, it would be a joy to travel through here. But it is not so hard to imagine how stressful this trip would be were it to be attempted in a snow storm, especially one driven by winds — visibility would then be near zero and white would fill the air and very soon the roadbed too! Certainly not a trip to be undertaken lightly! Yet, the winter crews who work to keep this road open face such conditions regularly on North Mountain and elsewhere in the Highlands; anyone who has to travel this way in the winter surely owes them gratitude for their often difficult work in very harsh conditions.