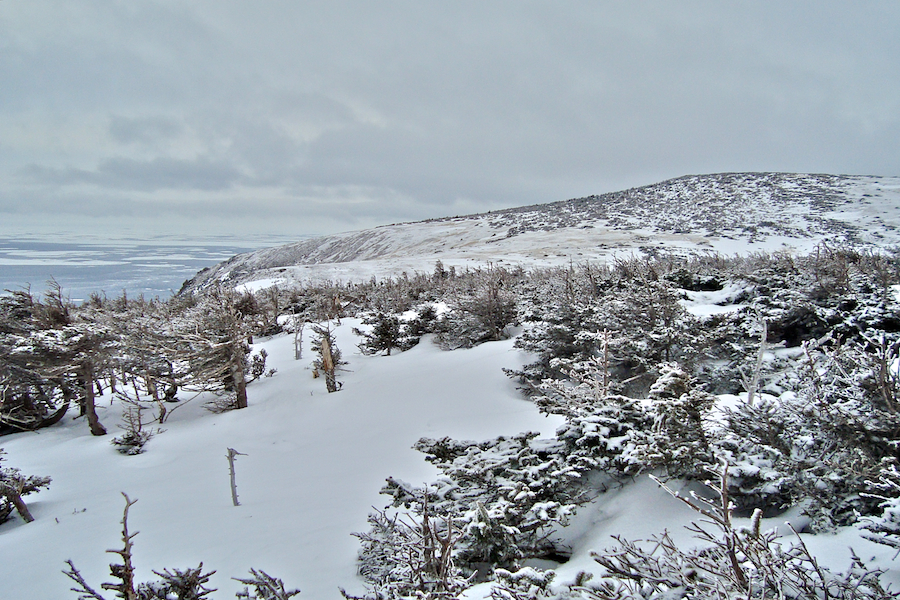 This view to the north shows the coast from Polletts Cove Mountain, a local name for the mountain rising northeast of Polletts Cove Beach (unnamed on the topographical map) to the west of the Blair River Valley, which is at the far right of this photo and out of its scope. As can be seen from the ice cover on the Gulf of St Lawrence at the left, this photo is from the winter of 2008-2009.
The topographical map labels "Big Head" the uppermost prominent ridge line that spans the right two-thirds of this photo; beyond and hidden by it, lie the High Capes, Lowland Cove, Tittle Point, and Cape St Lawrence. If one looks closely at the centre of the photo and then follows the nearer ridge line to the left, one will see the location of the two Delaneys Brooks (the northern one is the Lower Delaneys Brook and the southern one is the Upper Delaneys Brook) that have carved the valley below the nearer ridge and Big Head on the other side. Delaneys Point, on the coast, is a bit south of the nearer ridge according to the The Nova Scotia Atlas (Delaneys Point does not appear on the topographical map).
I have not seen this terrain with my own eyes, but I have long wanted to do so; what a treat it is now to be able to see it here!