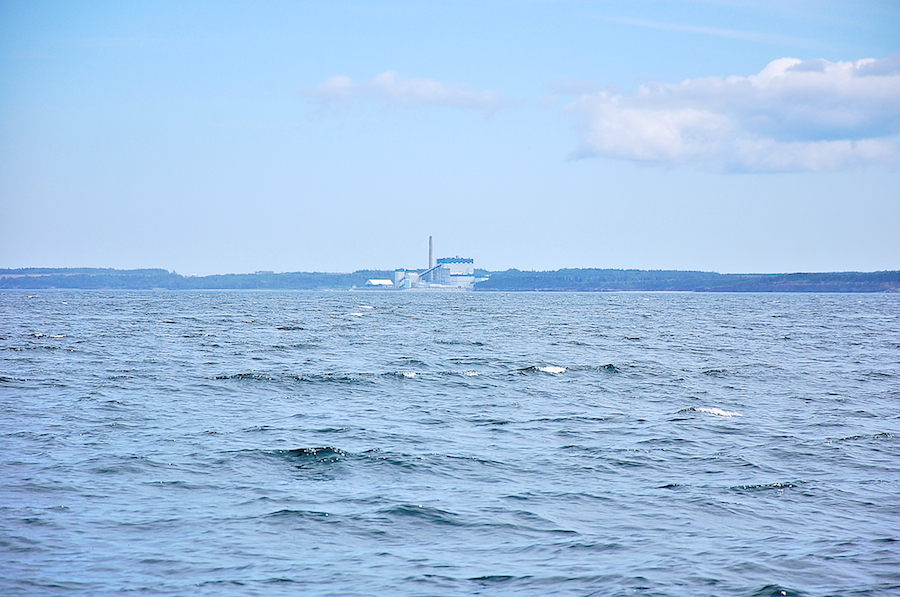 The photo above shows Nova Scotia Power's Point Aconi Generating Station on the northeastern tip of Boularderie Island, west of Point Aconi. This plant was constructed in the early 1990's to take advantage of the coal provided by the immediately adjacent Prince Colliery, a part of the Sydney Coal Field; closed at the end of 2001, it was the last underground coal mine to operate in Nova Scotia. However, as the most modern thermal generating station in Nova Scotia, the power plant continues to operate since it provides lower emissions than older plants of a similar size.¹
The stack at the generating station is 107 m (351 ft) high; this helps to determine the scale of the adjacent terrain.
Shortly after this photo was taken, we arrived in close proximity to the Bird Islands, having reached the southwestern end of Hertford Island. The remainder of this essay will be given over to photos of the islands and of their fauna.
---
¹ This information summarizes and incorporates some of the wording found in this Wikipedia article.↩