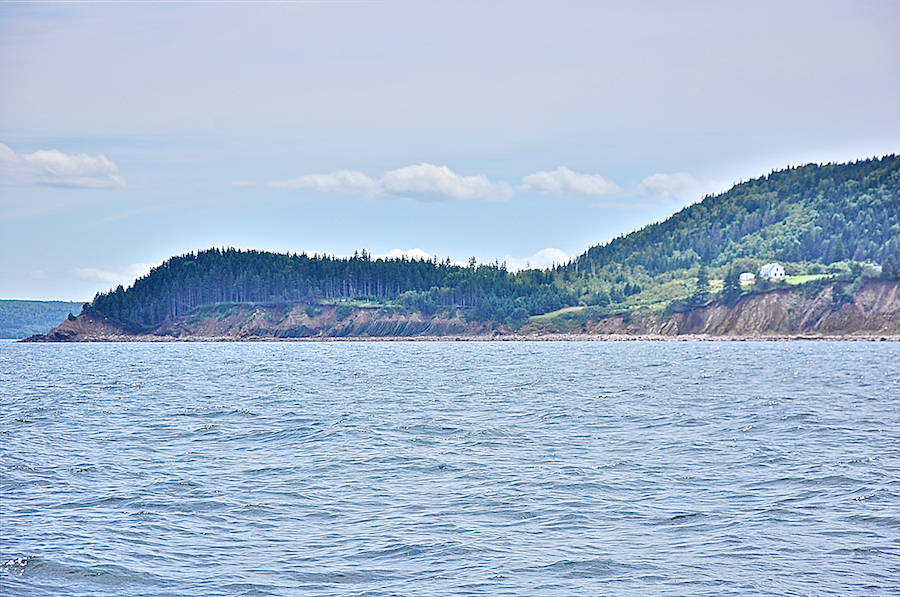 Cape Dauphin is the northeastern extremity of the Great Bras d'Or Massif and is usually taken as the easternmost edge of St Anns Bay; beyond lies the Atlantic Ocean.¹ On the other side of Cape Dauphin is the northern end of the Great Bras d'Or Channel, one of the two natural openings into the Bras d'Or Lakes system (the other is the much narrower Little Bras d'Or Channel on the eastern side of Boularderie Island), the waters of which are more than deep enough to accommodate large ships. The land in the far distance at the left of the photo is Boularderie Island.
The angle from which photo #2 was shot hides the houses seen in photo #1; the better light also gives a clearer view of the eastern shores of the massif. The Fairy Hole lies not too far to the right of photo #2, but out of its scope. The exposed cliffs in the centre and running to the right show two very different kinds of rocks. The indentations along the shore line are apparently due to wave action and are seen all along the northern and western sides of the massif.
[continued below]
---
¹ Some sources consider these waters to be part of the Cabot Strait, a term I prefer to restrict to the waters north of Cape Breton Island that separate it from Newfoundland. The topographical map labels the waters north of Boularderie Island as the Atlantic Ocean, a practice I have followed here.↩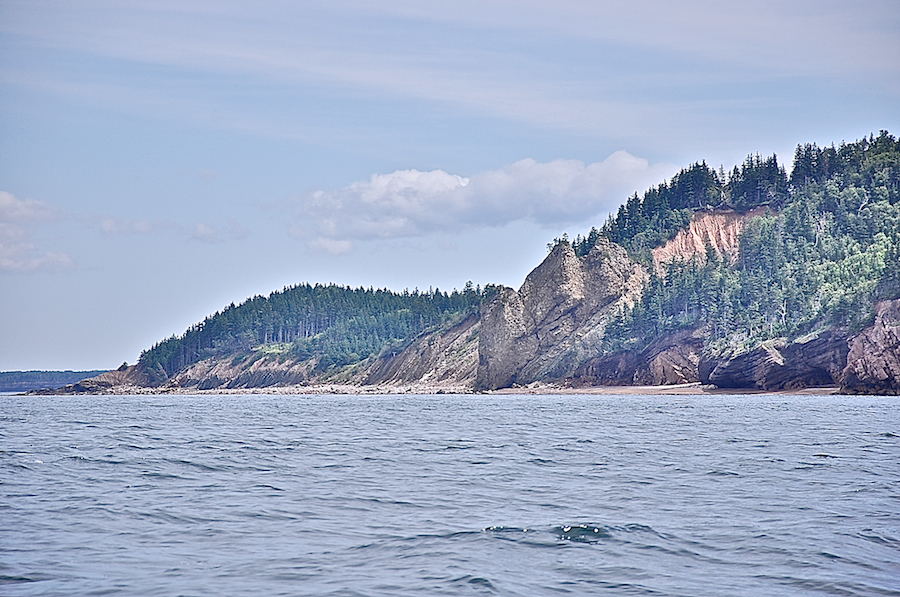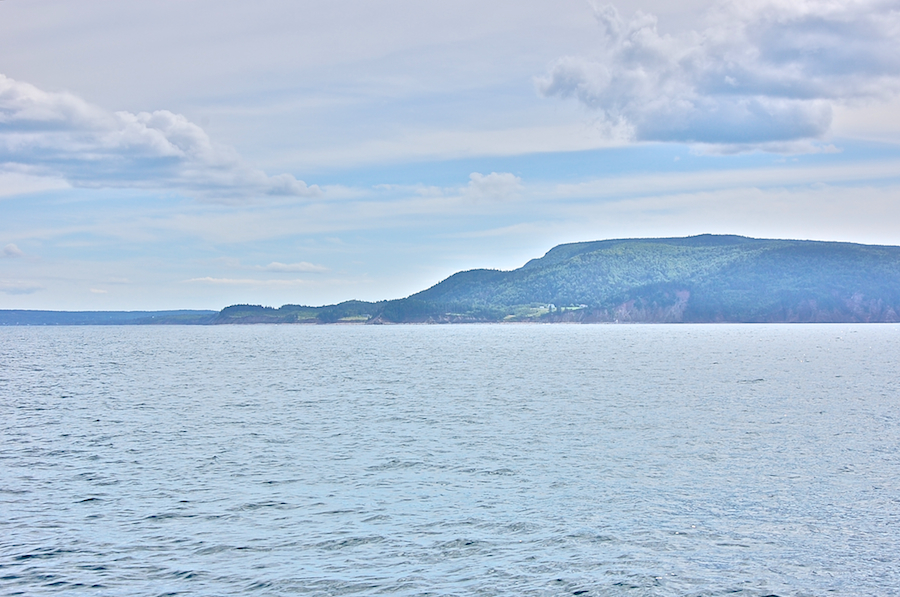 Photo #3 was taken from much further away during the return trip. Although somewhat obscured by the haze, it gives a much better idea of the height of the northern end of the massif, with Cape Dauphin Mountain at the right of the photo. As can be read­ily seen in this photo, the "bump" of Cape Dau­phin is but a small frac­tion of the height of the main part of the massif; the lovely un­du­lating line from the cape to the mountain above is a­sym­me­tri­cal, but very eye-catching and dis­tinc­tive. To the left of Cape Dauphin, the shores of Boularderie Island lie below the further distant Bois­dale Hills that line St Andrews Channel east of Boularderie Island (in this compressed version, the bound­ary line is still vis­ible, though it requires a bit of squinting to make out). I'm sorry the lighting is no better here, but this is the best shot of these features that I got.