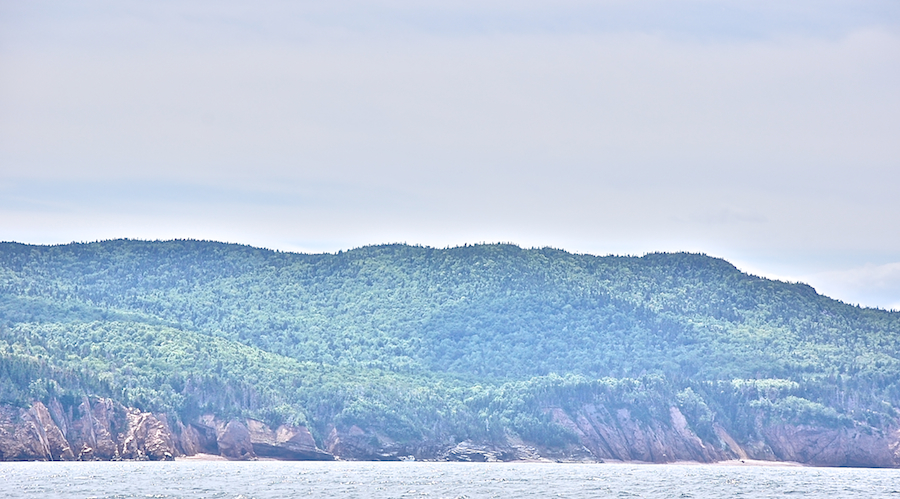 Photo #1 shows the middle portion of the northern shores of the Great Bras d'Or Massif; to the east (left in this view) lies Cape Dauphin and to the west (right in this view) lies Cowdy Point, seen in the previous photos, and both out of the scope of this photo.
Photo #2 shows an interesting detail of a rock formation found in the left half of the photo above. If you look carefully a bit right of the centre of this photo, you will see three people (and a white dog) stand­ing on a rock just above the water; their boat can be seen near the centre of photo #1. Their mi­nus­cule height gives one a much better appreciation of the size of the features shown in this close-up and of the massif above!
[continued below]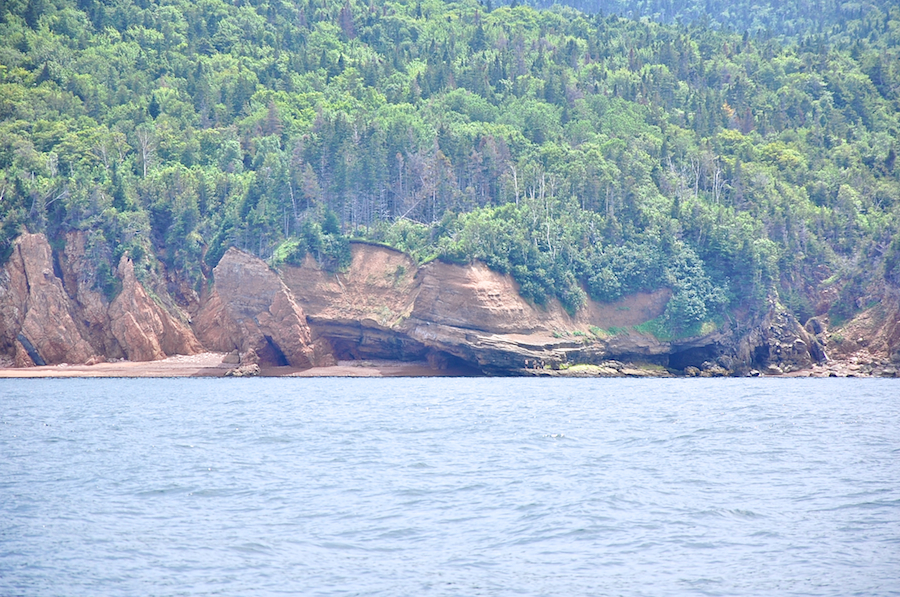 This area of the shore is labelled as "Fairy Hole" on the topographical map, though I am not certain just exactly where along this shore it is; given the interest shown by the people in photo #2 and by the people and the boats in photo #3 (taken on the return trip), I'd be willing to wager that it is very close to the scene in these photos, which is consistent with the GPS coördinates.
Cape Dauphin is said to be sacred to the Mi'kmaq people, as described here and here. This latter web page says that, according to Mi'kmaq legend, the hero named
Glooscap was sent from the Great Spirit to protect his people, the Mi'Kmaqs. Resid­ing at Cape Dauphin, one day he was faced with 2 native women standing in the water, who began to taunt him. Angry, Glooscap leapt from his canoe, breaking it into two pieces. These pieces are still visible from the cove today, they are known as the Bird Islands. Glooscap is said to have turned the two women into stone–they are said to be the stone pillars, which guard Gloos­cap's Cave.
A trail, said to be difficult and which I have not yet hiked, leads to the Fairy Hole from the end of the New Campbellton Road on Cape Dauphin; a very interesting description of that trail and the caves found at its end can be found here.