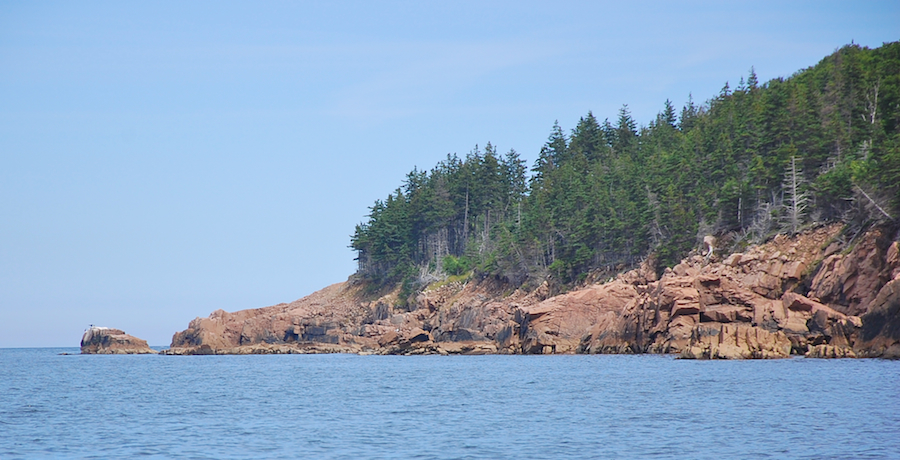 The tour guide's lecture continued, but I was too fascinated by the passing scenery to listen until its end. The Highland Lass has windows on both sides, polished to shining clarity before the boat left the wharf, except for the frontmost windows on each side, which have no glass; it also has an open back deck. Since I have not had very good luck shooting through glass, however clean, I went out on the back deck, where I could still hear (with some difficulty) the continuing lecture.
The massif which ends in Cape Dauphin runs in a northeast to southwest direction from Cape Dauphin to Beinn Bhreagh (outside Baddeck); it is bordered on its eastern side by the Great Bras d'Or Channel. From north to south, the to­po­graph­i­cal maps give the names Cape Dauphin Mountain, Kellys Mountain, Beinn Scalpie, and Beinn Bhreagh to various portions of this con­tin­u­ous, if occasionally acci­dented, massif, but I know of no name for the entire massif, to which I will refer in this essay as the Great Bras d'Or Massif, after its eastern boundary.
[continued below]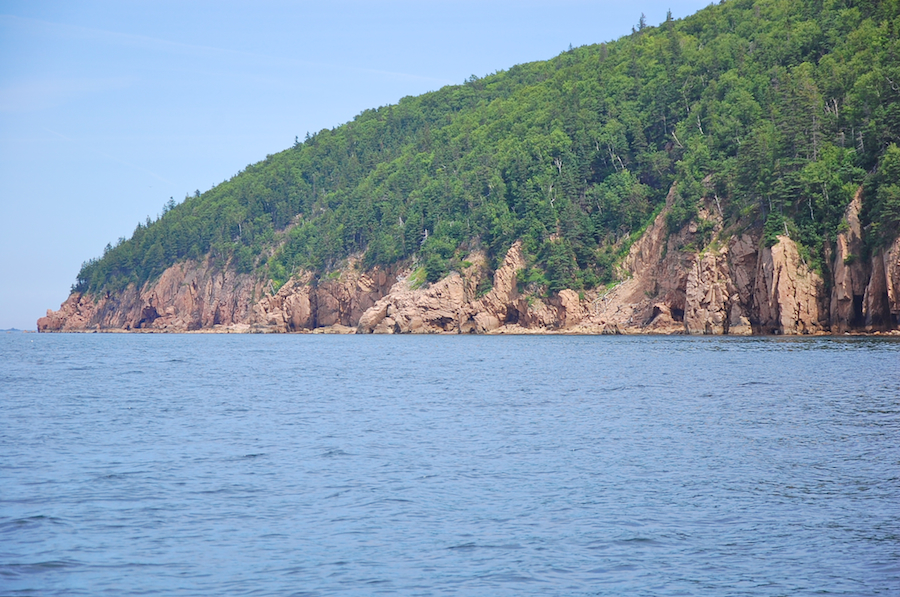 Photo #2 was taken shortly after passing Big Grappling Beach; it shows the northwestern end of this massif, which ends in Cowdy Point; photo #1 was taken (with a telephoto lens) a bit later, still a goodly distance from the point. Photo #3 was taken after having rounded Cowdy Point; at the far right of this photo, one can see Murray Mountain rising above River Bennet on the western shore of St Anns Bay; alas, the haze has already gotten sub­stan­tial­ly worse, as the clouds have begun to cover the previously blue skies. Fortunately, the sun remained clear and bright over the Bird Islands.
I have been unable to locate any information on the derivation of this point's name; presumably, it was named for some local pioneer or explorer.