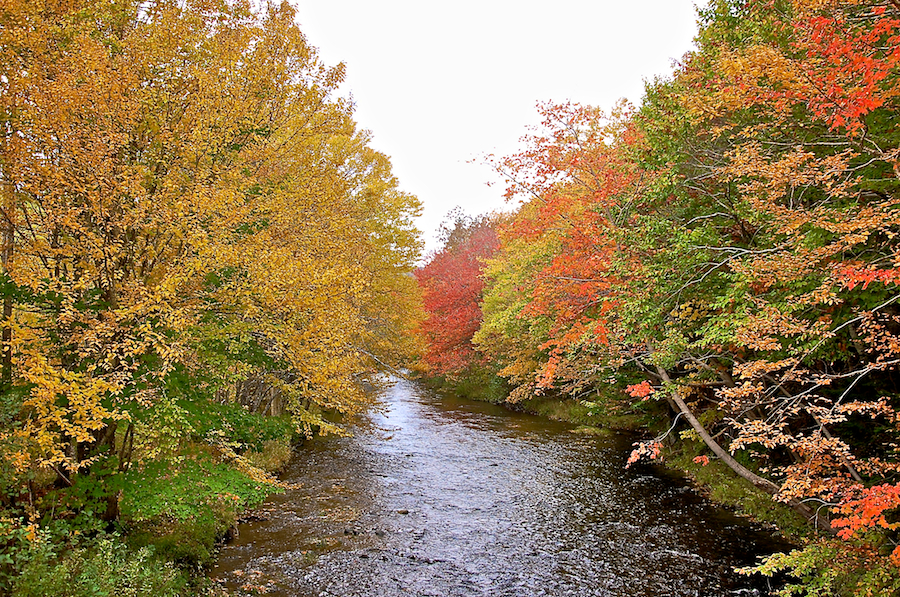 The Indian River (also known as Bridgend Brook) rises in the plateau east of Campbells Mountain south of Nevada Valley and northeast of Roseburn. Joined by the Kewstoke Brook about 1 km (0.6 mi) northwest of the bridge on the Soapstone Roseburn Road, it flows east and enters the Skye River east of Whycocomagh very shortly before the combined river flows into the waters of Whycocomagh Bay. Reservation Road leaves the Whycocomagh Road at the Stewartdale Cemetery west of Churchview and proceeds south and west to the Trans-Canada Highway in Waycobah. Just a few metres/yards after leaving the cemetery, one arrives at the bridge over the Indian River, where the photos on this page were taken. Although the Indian River follows below the course of the Whycocomagh Road after it crosses that road west of Soapstone Mine, it is very hard to photograph from that stretch of the road because it is protected on both sides by trees and lies in a ravine well below the surface of the road. Its noisy song, however, is readily audible if you stop the car and listen to the fast-flowing river below. It seems to be perpetually in a hurry to get to the Skye River!
By the time I reached the Indian River, the blue skies of earlier in the day had become covered over with the white clouds one sees in photo #1, looking upstream at the brilliantly lined banks of the Indian River, which would have been even brighter had the rays of the sun been able to reach them. Lots of greens remain here, unready to leave their summer state, while others are showing yellows and oranges and reds. What a beautiful stream!
Photo #2 looks downstream, where the scene is considerably different: fewer reds and fewer yellows, with oranges predominant. It always amazes me when the scenes upstream and downstream are so different (recall the same case at Long John's Bridge earlier in this essay, though there it was the downstream view that had the colours and the upstream view that didn't), even though both have necessarily had identical weather. This process of changing colours is always interesting to watch!