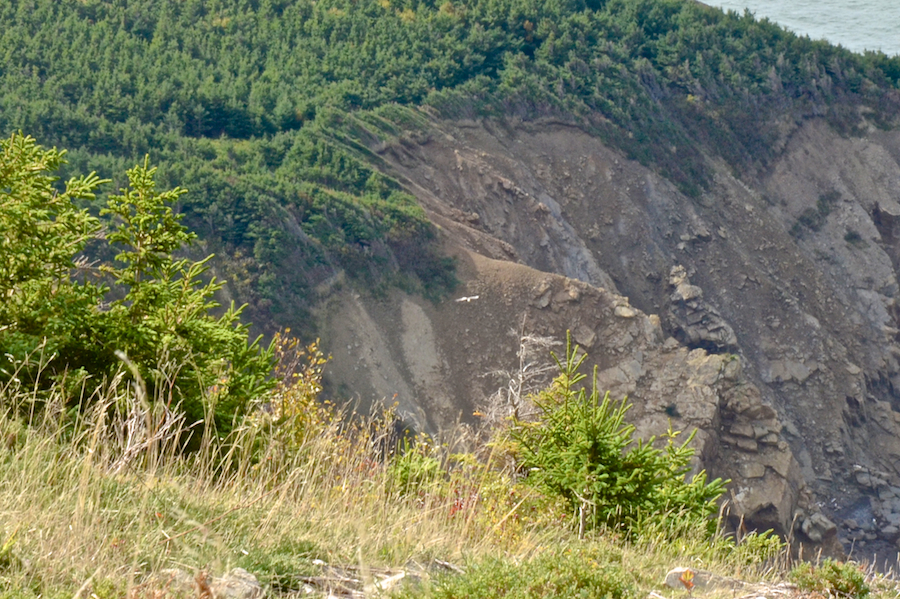 Cape Mabou is a fine eagle habitat with few people, plenty of quiet, nearby good fishing, and fine thermals on which to ride. It is highly unusual not to see or at least hear one or more eagles on a hike anywhere in this area. On one memorable hike in late summer a few years back, I counted twelve in the airs above Beinn Bhiorach and the MacKinnons Brook Valley, riding and soaring and squawking and playing. This photo, taken below the summit of Beinn Bhiorach on yet another hike, shows four in the air at once. The photos on this page were all taken during my last hike on Cape Mabou for 2012.
Photo #1 shows in the centre an eagle my friend pointed out to me as it was circling below the look-off along the cliffs above the beach. While I was working on this essay, I discovered a second eagle in the lower right corner of the photo, sitting on a rock on the cliff face below; in the original, it is unmistakably an eagle, while in this compressed version, there is but a dot of white for its head; in both versions,the rest of its body takes on the colour of the rocks on which it is sitting.
Photo #2 was taken from the relocated Beinn Alasdair Bhain (Fair Alistair's Mountain) Trail where the photos earlier in this essay were taken. This eagle made several passes over the area and one over us as we were admiring and photographing the views. In this one, it is heading down towards MacKinnons Brook over the cliffs parallel to the ridge on which we were sitting.
[continued below]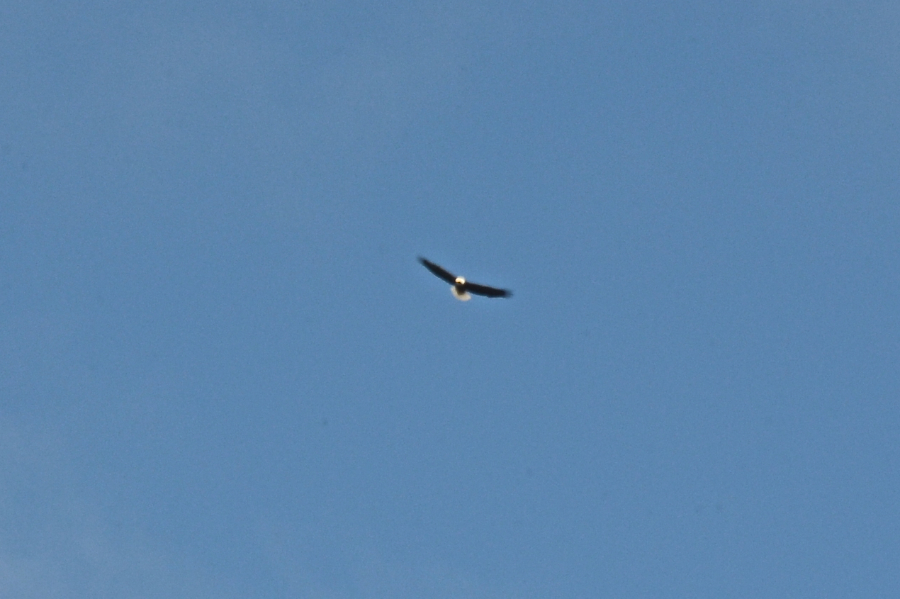 Taken seven seconds later, photo #3 shows the eagle as having turned around and heading back towards us, perhaps to check us out.
Four seconds later, photo #4 shows the eagle beyond us and over the summit of Fair Alistair; guess we weren't suitable prey!