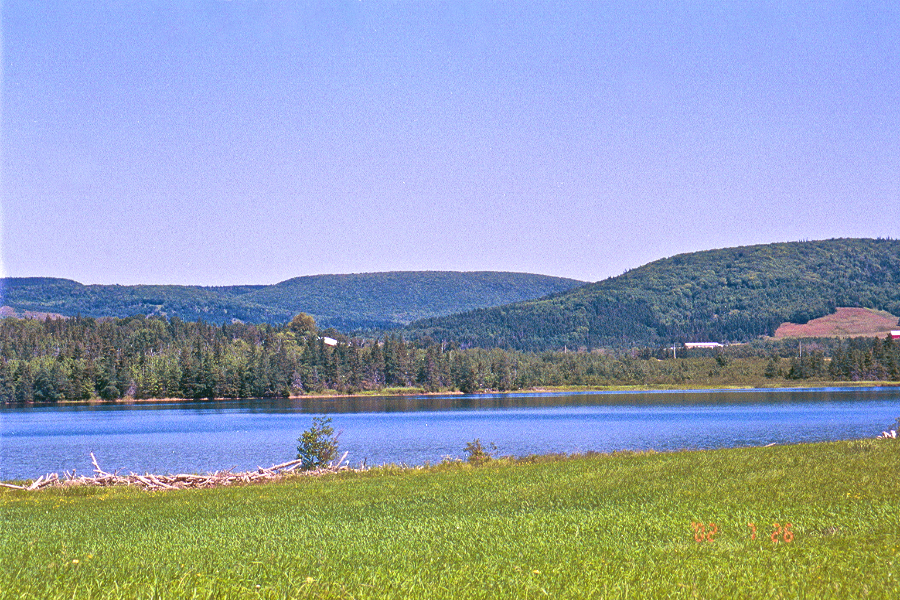 This view is from the Railway Trail just before it crosses the West Mabou Road outside of Mabou village. The water seen here is Big Cove, a bay at the mouth of the Southwest Mabou River, which empties into the Mabou River outside the scope of this photo. The land directly across the water is Murphy Point and the Mabou River proper lies on its other side. The Cape Mabou Highlands are at the left and middle of the photo; Mabou Mountain is at the right. This is a gorgeous spot and you can park the car on Highway 19 or West Mabou Road and enjoy it from there. As I said before, Mabou abounds with gorgeous views and this is just one of many!
The walk from the bridge over the Mabou River on Highway 19 to here crosses back yards and is not terribly scenic until one approaches West Mabou Road, so, if you need to shorten this segment of the trail, you can do so by parking along the West Mabou Road and picking up the trail here.
[2012] A kiosk is now at this location, so there is no need to park on either Highway 19 or West Mabou Road; just use the parking lot beside the kiosk. The shaded picnic table is a great spot to eat a picnic lunch or to watch the sunset in the evening.