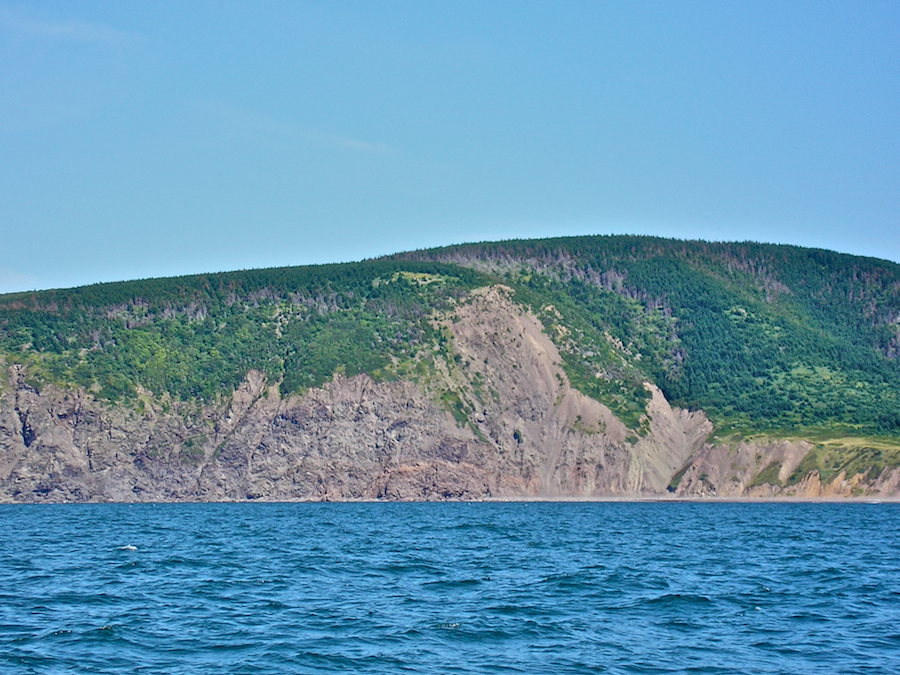 And here the summit of Beinn Alasdair Bhain is seen in the centre of the photo; its well-known look-off is the grassy patch one sees at the top of the cliffs just left of the centre of the photo. The views to the south from this look-off are spectacular (for one view, see this photo). It is not unusual to see eagles in the air above nor whales feeding in the waters below. Cape George on the mainland is easily visible on most days and Prince Edward Island is also visible across the Gulf of St Lawrence on a fine day.
This view is mostly new to me, as the lower parts of the cliffs of Beinn Alasdair Bhain as seen from land are partly obscured by the adjacent terrain. I did not realize how sheer they are! Nor had I ever before seen the most interesting chute which comes out on the gravel beach below Beinn Alasdair Bhain, though I had seen the beach itself from the look-off above. One crosses a couple of trickles along the Beinn Alasdair Bhain Trail as it ascends from the Mabou Post Road Trail Head, but this chute was clearly made by much more than a trickle!
The Beinn Alasdair Bhain Trail runs through the forest behind the look-off and quickly begins to descend along the slope seen in the previous photo. Just below the summit is the junction with the MacPhee Trail, opened in 2006, which follows old cart trails along a ridge below and to the left of the summit one sees here to come out on the Cul Na Beinne (Beyond the Mountain) Trail (MacKinnons Brook Lane). It's a fine trail in its own right and allows one to loop back to the Mabou Post Road Trail Head when one does not have time to continue on to MacKinnons Brook.
[2012] As previously noted, the Beinn Alasdair Bhain Trail had to be re-routed as it descends to the MacKinnons Brook Trail Head;; it is now necessary to follow the MacPhee to the east for a distance before coming to the new path down the mountain. The damage already seen in this photo behind the look-off has become much more pervasive and devastating. In 2011, things looked so very different from what they did even as late as this photo!