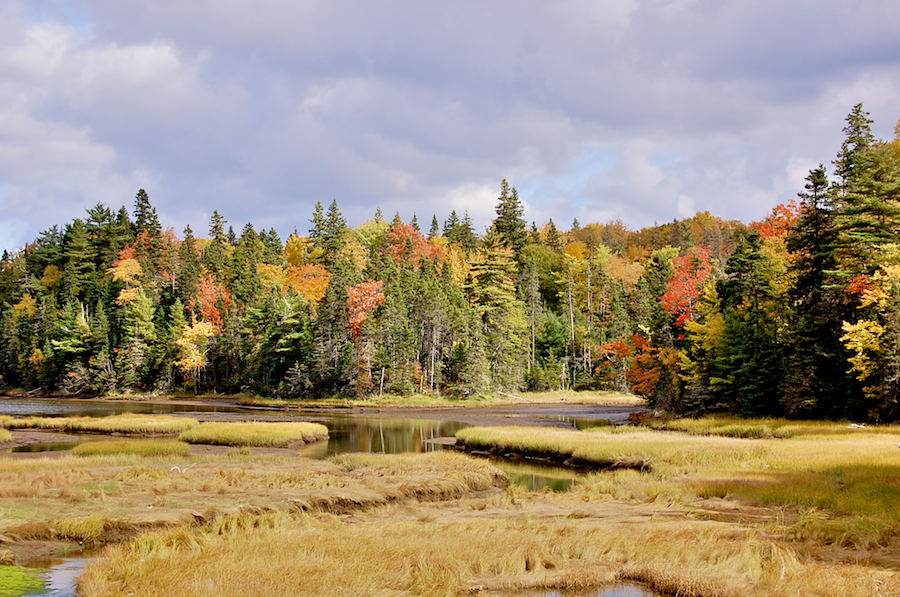 Year after year, the fall colours on the Cabot Trail from St Anns to Tarbotvale are memorable for their vividness and this year was no exception. Combined with the great views of St Anns Harbour and the surrounding Cape Breton Highlands, they are irresistible.
A short distance beyond the Gaelic College at St Anns, St Anns Picnic Park lies on North Gut Saint Anns, the outlet of the North Gut Brook which one sees here meandering through the estuary. Most of the trees along this shore are evergreens, but intermixed with them are deciduous trees and the reds in these trees were certainly striking as I passed by, enough so I wanted to stop and get a photo.
The sun, alas, was not quite positioned properly for my camera to do justice to the bright reds of the trees at the right, but I still like this photo for the way some of the trees pick up and reverberate the golden browns of the marsh grasses.