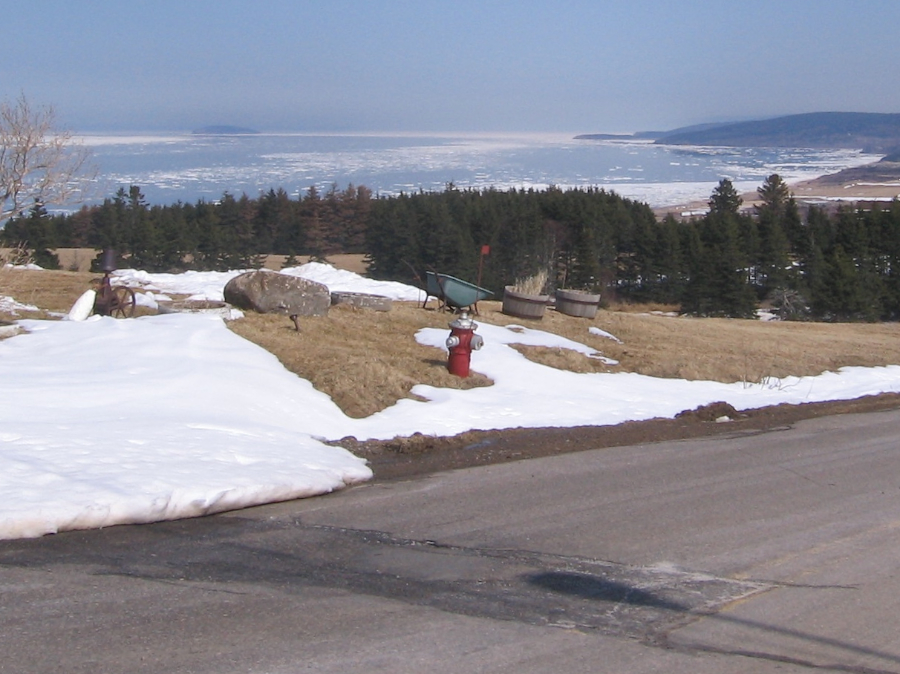 At the south end of the village of Inverness, a road to the west leaves the Cèilidh Trail (Highway 19) at the Tommy Cat Bistro and climbs up to Broad Cove Banks on its way to Sight Point, one of the three trail heads of the Cape Mabou Trail Club's extensive trail system along the western coastal and west-central areas of the Cape Mabou Highlands. The photo above, taken from Broad Cove Banks, shows the coast line to the northeast.
Inverness's long sandy beaches are partially concealed in this view by the dark green evergreens in the centre of the photo, but can be seen running beyond them to the right; further along, one sees Broad Cove below MacDougall Bluff along Kennedys Shore out to Smiths Point (in the nearer distance) and beyond to Broad Cove Marsh and Marsh Point (further to the left) and MacLeods Campground with its sandy beach, a spectacular drive and equally suitable for hiking (which allows one to better enjoy the superb views and to get a fine ærobic work-out at the same time). Beaton Mountain rises beyond, here appearing merged into the terrain closer to Broad Cove. Margaree Island, now a protected area officially known as the Sea Wolf Island National Wildlife Area, sits well off shore left of centre. Duncan Hugh MacLellan, son of a former Margaree Island lighthouse keeper, published a very interesting memoir of his life growing up on the island in An Innis Aigh - My Life on Margaree Island.¹
This photo from the early spring of 2009 shows a considerable amount of partially snow-covered coastal ice sparkling in the bright sunlight for as far as the eye can see out into the Gulf of St Lawrence. While the darkish grey-blues in the far distance hint at open water, they are likely clouds or fog sitting above the ice. Again, the patterns of bare spots and scattered snows under the dazzling sun convey a sense of active movement in this lovely scene.
---
¹ Margaree Island Publishing, Nova Scotia, 2004 [ISBN 09737316-0-5].↩